Chattahoochee Technical College celebrated its brand new, state-of-the-art health science building at the college's Marietta campus on Wednesday, Sept. 23, with a ribbon-cutting ceremony and open house attended by state and local community leaders.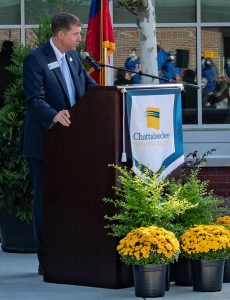 Technical College System of Georgia (TCSG) Commissioner Greg Dozier and Cobb Chamber of Commerce Chairman John Loud served as two of the featured speakers at this event. Also delivering remarks were past Chattahoochee Tech Board of Directors Chairman Mark Haney, Chattahoochee Tech Foundation Vice Chairman Rick Kollhoff, and McCarthy Building Companies Executive Vice President Bobby Campbell.
Representing the college in the ceremony were Chattahoochee Tech President Dr. Ron Newcomb, the college's Vice President for Facilities David Simmons, and Vice President of Academics Jason Tanner.
In speaking about the future of Georgia and meeting workforce demands across the state, TCSG Commissioner Greg Dozier championed his belief in the vital significance of technical colleges. "We're doing something right. We train folks to be prepared, to be needed," said Dozier. "We train folks in the environment they're going to work in, so the first day they're on the job they have purpose."
Programs of study housed in Chattahoochee Tech's new health science building include licensed practical nursing, medical assisting, certified nursing assistant, clinical laboratory technology, patient care technician and the college's new dental assisting program. This state-of-the-art facility also features Technology Enhanced Active Learning (TEAL) classrooms and dedicated labs for anatomy, biology, chemistry, physics and physiology.
"When you look at this building, think of the students who are going to come here by the thousands in the decades to come," said Chattahoochee Tech President Dr. Ron Newcomb. "This building is going to be here, to help students get the education and training they need to get into the field they aspire to be in. The value of that kind of education is something that unifies us."