Chattahoochee Tech Foundation
Presented to those who, through untiring efforts and altruistic resources, have provided the spark needed to ignite the flames of innovation, advancement, and ingenuity for the flourishing workforce that embodies the communities we serve.
Alumni of the Year
Presented to an illustrious graduate who truly supports workforce development within the community, advocating for technical and continuing education within their chosen field. This person consistently demonstrates real leadership on the job, making significant contributions to their particular field and/or industry.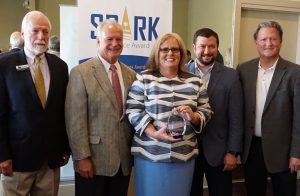 2018 Alumni of the Year – Ms.Cecilia Byers, Biomedical Engineering Manager, WellStar Health System
Associate of Applied Technology (AAT)
Degree in Biomedical Engineering Technology
AAT in Electronics and Engineering Technology
Volunteer of the Year
Presented to an individual who has demonstrated commitment to and passion for technical education, enabling our students to provide real and tangible benefits to the community's workforce. This person has consistently gone "above and beyond" to secure funding that specifically supports our students, our academic programs, and our varied services.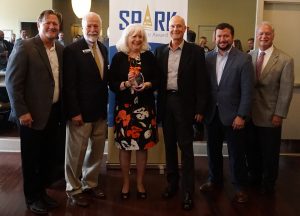 2019 Volunteers of the Year – Alan and Claire Peterson
Alan and Claire Peterson, along with a group of dedicated family and friends, established the Mike Peterson Memorial Scholarship Fund, in memory of their son, Mike.  The primary fundraiser for the Scholarship Fund is an annual golf tournament. Proceeds from the tournament are used to purchase automotive, diesel and now automotive collision tool sets for upcoming program graduates. Through the Peterson's efforts and those of the Tournament Board, the Scholarship Fund has raised over $160,000 for the purchase tools awarded to 82 students.
Benefactor of the Year
Presented to a major benefactor who has actively supported student scholarships and college programs throughout the year. This person continues to exhibit their confidence in technical education and demonstrates the value of changing student lives through their significant and meaningful financial contributions to the Chattahoochee Tech Foundation.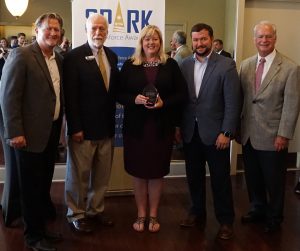 2019 Benefactor of the Year – Elizabeth Smith Williams
The Beacon Foundation supports the Special Population Fund from which the college provides bus passes, books and book codes for the textbook lending program, and this year, helped us establish funding for homeless students needing short-term housing – a growing need for today's college student.