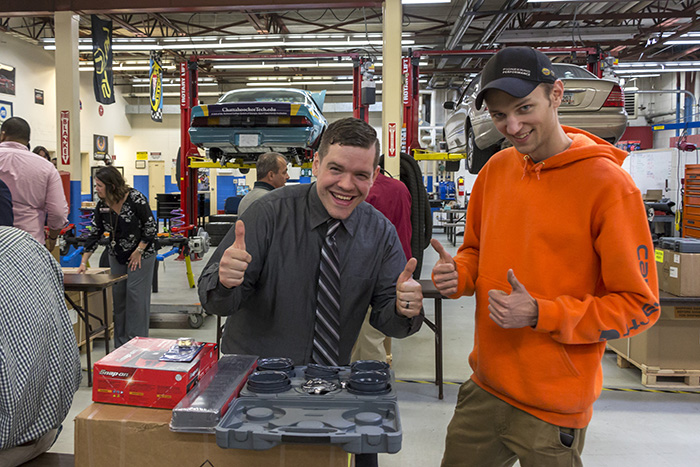 Generous support from our donors allows the Chattahoochee Tech Foundation to offer student scholarships each year to assist with tuition and fees. Scholarship recipients are selected after committee review and awards are distributed Fall semester. The Foundation promotes the following scholarships:
Chattahoochee Tech Foundation Scholarships (includes various scholarships established by our generous donors)
Each scholarship has eligibility requirements based on the donor's criteria. Applicants will request a letter of recommendation from an instructor (current students), supervisor, or high school counselor (incoming/new students) within the online application. Financial need is determined using numbers from the FAFSA.
Note: You can receive a scholarship through the Chattahoochee Tech Foundation even if you do not qualify for aid through the FAFSA. Scholarships are not transferable to other colleges and can only be applied to tuition, fees, books, and qualified educational expenses as defined by the IRS. Scholarships awarded through the Chattahoochee Tech Foundation are applied to a student's account beginning Summer Term.
The online scholarship application opens Monday, January 11th and closes Friday, February 26th, 2021. Students will be notified if they have received a scholarship Friday, March 26th, 2021.
Click Here To Complete the Online Application.
Mike Peterson Memorial Scholarship
This award is presented one time per year. The application process starts in January. Candidates' applications are collected and sent to the Peterson's review committee. Recipients are selected around late February/early March.
External Scholarships (scholarships offered by external organizations)
The Foundation does not administer or select recipients. Applicants who are interested should contact the sponsoring organization for deadlines. Check back often because new opportunities are added to this list frequently.
Chattahoochee Technical College offers a wide range of financial aid options (HOPE Grant, HOPE Scholarship, Pell Grant, etc.). Visit the Financial Aid General Information web page for more details.
Questions:
Please contact the Foundation Office at 770-528-4461.