Advising is teaching at Chattahoochee Tech! The goal of the Office of Advisement is to G.E.T. (guide, empower, teach) students to achieve their educational goals.
All entering students meet advisors during New Student Orientation. Advisors are assigned based on a student's program of study. Please see below for specific information on how to find an advisor, based on your program of study.
Note: Students interested in applying for CTC's Health Sciences programs must meet with a Health Sciences Advisor.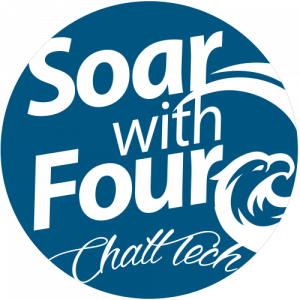 Don't forget to Soar with Four.
How Do I Find My Advisor?
Transfer Advisement
This applies to CTC students who are planning to continue their education at other institutions when they complete their CTC program of study. Go to the Transfer Advisement page.
The Office of Advisement hosts two (2) Transfer College Fairs per year: one (1) in the Fall in September and one (1) in the Spring in February. Campus location will be determined close to the event date. For more information about the Fair and our Transfer Advisement Workshops, please go to our Transfer Advisement page.
College and University Recruiters: If you would like to schedule a campus table visit on one of our campuses outside of the Transfer Fair, please complete the Campus Visit Request Form. We accommodate campus table visits in October and November for our Fall Semester and in March and April for our Spring Semester.
Advising Initiatives
Look for the Office of Advisement at Mid-Semester Check-Up.
The Office of Advisement and the Success Centers collaborate twice a year (in October and April), a week before registration opens, to help our students Snack on Success. We provide the snacks. Watch for posters and emails as the dates get closer.
Mobile Advising: Our Mobile Advising campaign includes Advising After Dark in November, Beat the Wave in March, and Advise and Shine in June. Watch for posters and emails as the dates get closer.