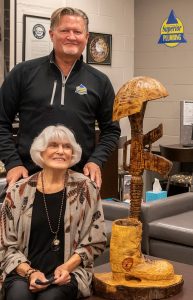 TCSG State Board Member Jay Cunningham, who is the founder of Superior Plumbing, recently presented Chattahoochee Tech with a hand-carved, wooden fallen soldier statue for display in the Jim Cunningham Veteran Services Center at the college's Marietta Campus.
The fallen soldier statue, also known as the battlefield cross, is a memorial sculpture or marker consisting of a soldier's helmet, inverted rifle, and pair of boots. It serves to honor and respect military service members who have had the ultimate sacrifice.
The Jim Cunningham Veteran Services Center is named for Jay Cunningham's father, a 21-year U.S. Army veteran who served in Vietnam. This facility serves as a gathering place for students who are veterans or military family members to receive student support services as well as external veteran services. There are 360 U.S. military veterans as well as 350 military family members enrolled this semester at Chattahoochee Tech. For the past three consecutive years, the Military Friendly® Schools organization has ranked Chattahoochee Tech as one of the nation's outstanding military-friendly schools.