Chattahoochee Technical College has implemented a new program in Dental Assisting that addresses a widespread need for highly skilled workers in this career field.
"Due to the fact that there is a national dental assistant shortage that is projected to continue through 2024, our dental assisting students are in an optimal position to enter the job market," said Chattahoochee Tech Dental Assisting Program Director Michelle Peets. The college welcomed its first class of dental assisting students this fall. This program is based at the Chattahoochee Tech Marietta Campus in the college's new, state-of-the-art health science building.
"Our task is not just to get the students into the workforce, but to provide the dental community with outstanding dental assistants," said Peets. "Our goal is for the dental assisting program at Chattahoochee Tech to become the standard for the dental community when it is looking to hire."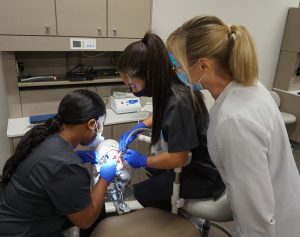 In additional to learning basic chairside skills for general dentistry, students will learn how to expose digital radiographs and how use a phosphorus plate reader for X-rays. Students also will learn the latest technology for infection control measures like biological monitoring to ensure sterilization of instruments. "Our students have the newest equipment on the market for quality assurance in equipment maintenance and lab skills" said Peets. "We are fortunate to have state-of-the art equipment that allows our students to be progressive when they enter the workforce."
Because of the COVID-19 coronavirus pandemic, much of the dental assisting class instruction has been moved online, with students meeting on campus one day a week for lab classes that run all day. "The coronavirus pandemic has certainly presented a challenge for everyone in academics," said Peet. "But our students have been dedicated and enthusiastic, so we are moving forward nicely."
Students can complete the Chattahoochee Tech Dental Assisting program in three semesters and earn a diploma in Dental Assisting. Upon graduating from the program, students will take the Dental Assisting National Board's (DANB) National Entry Level Dental Assisting exam.