The Chattahoochee Technical College Drafting Technology program is serving as a springboard to success for students of all ages.
Chattahoochee Tech student Tammy Perry, who graduated from high school in the 1980s, and Dual Enrollment student Janelle Reece, who will graduate from high school in May 2022, have gained essential workforce skills through the college's Drafting Technology program. They have learned industry-standard design and drafting software, and they have become skilled in preparing 2D technical drawings and 3D modeling. These skills have already led Perry to employment in this field within the local workforce.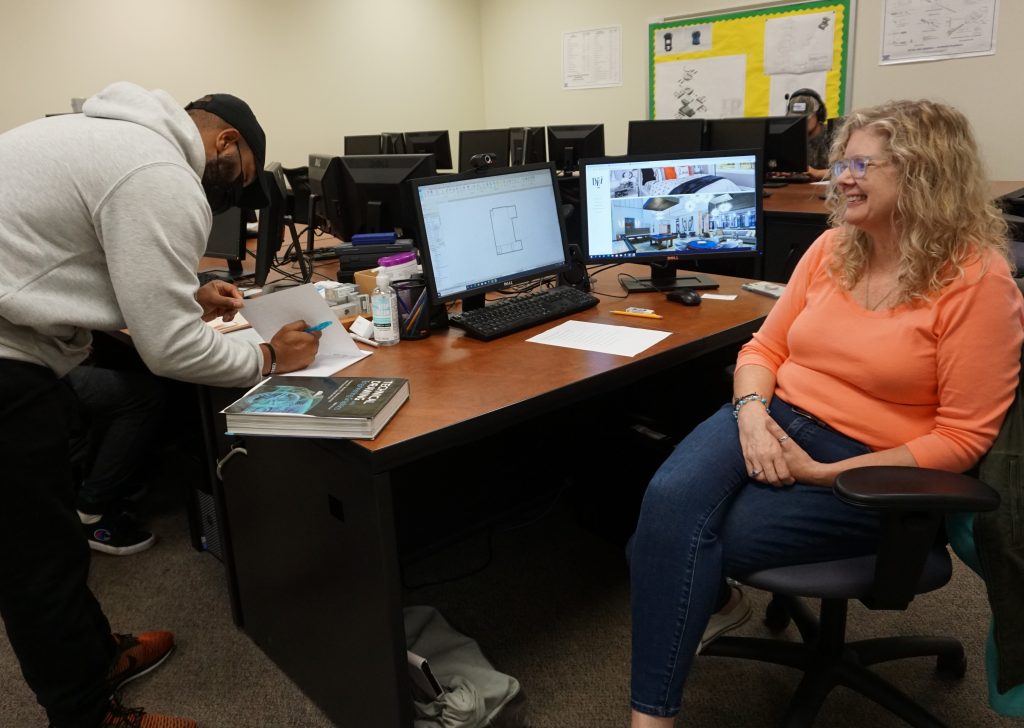 Perry completed a diploma in Drafting Technology at Chattahoochee Tech and is currently working toward an associate degree in the college's Interior Design program. For most of the fall semester, she worked as a tutor in the college's drafting lab. Thanks to the Computer Aided Design (CAD) skills she gained at Chattahoochee Tech, she recently landed a job as a CAD Designer with Design Environments, Inc. in Marietta.
"I always wanted to be a drafter for an interior design company," said Perry. "Taking classes in both drafting technologies and in the college's interior design program have given me the skills and knowledge to accomplish my new job." A typical day on the job for Perry will include working with state-of-the art CAD systems to do things like space planning, furniture plans, lighting design plans, and reflected ceiling plans. Design Environments, Inc. is a nationally renowned interior design firm specializing in the interior architecture and merchandising of model homes, clubhouses, and amenity/sales facilities throughout the United States.
"To get to this point today, I had to live through a major tragedy in my life," said Perry. "But if it wasn't for this event I would have never come back to college to look for a degree in architectural drafting and fulfill a dream. It is a wonderful feeling to be where I am now."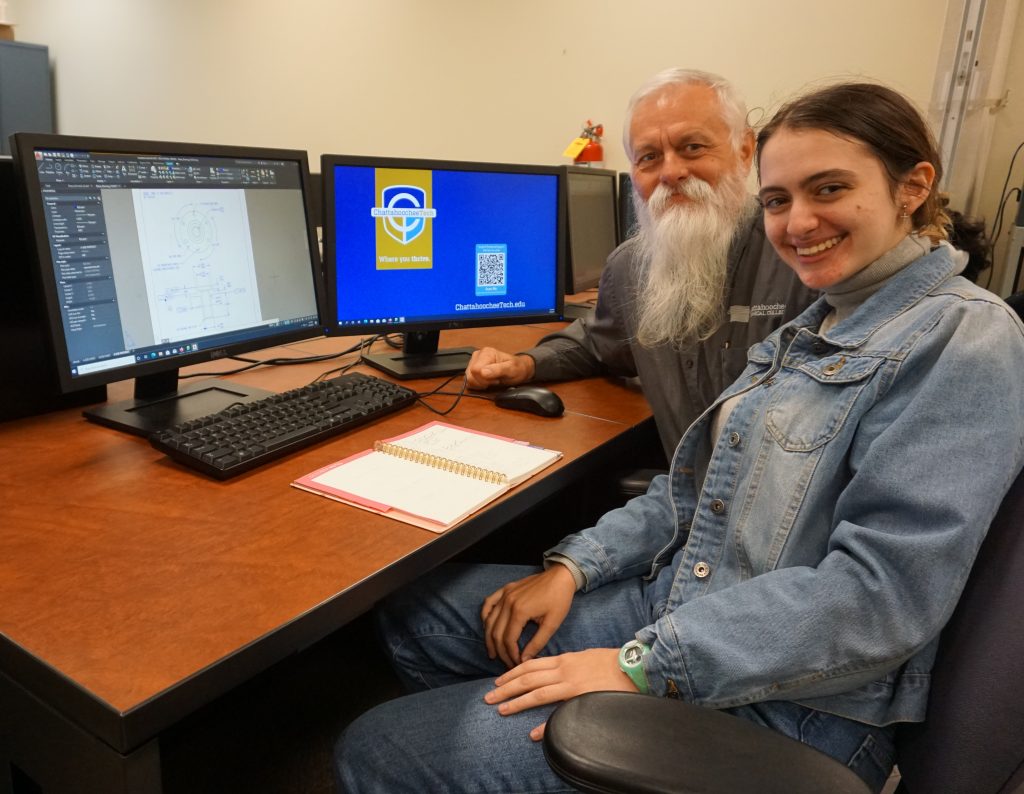 Chattahoochee Tech Dual Enrollment student Janelle Reece currently is working toward her associate degree in the college's Drafting Technology program. She plans to complete the associate degree this spring when she also graduates from high school. She began her Dual Enrollment college studies as a home-schooled high school student when she was in the tenth grade. Before she enrolled at Chattahoochee Tech, she researched what programs the college has to offer. "I loved math, drawing and computers, so drafting won! My Dad being the professor was a bonus!" Her father happens to serve as the lead instructor for the Drafting Technology program at Chattahoochee Tech.
"I feel prepared in my CAD abilities to enter the workforce," said Reece. "But Chattahoochee Tech has prepared me in so many more ways. I grew up in a sheltered Christian household, of which I'm unbelievably grateful for, so taking classes at Chatt Tech gave me a smooth transition into the real world."
After graduation from both Chattahoochee Tech and from high school this spring, Reece plans to participate in a six-month missionary project before entering the workforce to put her CAD skills to work. "I am most excited for all the opportunities I will have in the future," said Reece. "I believe getting an associate degree in drafting is an investment for my future long-term. As I pursue traveling, the arts, or raising kids and having a family, a career in drafting will be very accessible to me. I am excited to see how my career in drafting supports me in ways I cannot even imagine."
What advice would Reece and Perry have for any have for anyone who is considering a career in drafting? "My best advice for those considering drafting is to humble yourself and be willing to learn something new," said Reece. "I did not have a construction or manufacturing background before pursuing classes, so everything was new to me."
Perry's advice echoed the sentiment expressed by Reece. "Just keep going. Work hard and do the very best you can," said Perry. "Then find a job that you will enjoy and make you happy. Life is too short not to be happy. Enjoy the adventure that will get you to this point."