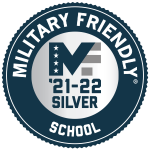 For the fourth year in a row, Chattahoochee Technical College has been designated as one of the nation's top military friendly schools by Victory Media, a national leader in connecting the military community to educational and career opportunities.
Chattahoochee Tech received a 2021-2022 silver-level military friendly ranking, exceeding the standards for all areas in which the college was evaluated. Areas of assessment for determining this ranking included military student support and retention; financial aid and assistance; culture and commitment; and graduation and career success.
"Given the new and certainly different challenges brought by the pandemic, I am thrilled to know that we are still able to provide services to meet the needs of our students who are either veterans or military family members," said Chattahoochee Tech Veteran Services Coordinator Barry Munday. He also noted that enrollment numbers have remained steady and strong throughout the pandemic for students enrolled at the college who are veterans or veteran family members.
"The consistent support of our faculty and staff was again a large proponent of our award designation," said Munday. Chattahoochee Tech employees like Financial Aid Specialist/VA Certifying Official Kay Paul have worked tirelessly to serve hundreds of veterans or military family members enrolled at the college, according to Munday. She spent many long hours to recertify benefits for hundreds of students who are veterans or military family members. "Her efforts contributed immensely to providing our military affiliated students with the highest quality service in support of this award," said Munday.
The Military Friendly® Schools list is determined annually based on extensive research using public data sources for thousands of schools nationwide, input from student veterans and responses to data-driven surveys from participating institutions. Over 1,200 schools participated in the 2021-2022 survey with just over half of them earning the standard military-friendly designation. Of that number, only a select number of schools achieved gold-level or silver-level award status for their leading practices, outcomes, and effective programs. The Military Friendly Schools list has come to set the standard for higher education institutions to provide the best opportunities for military service members, veterans and their families.