(Marietta, Ga. – Dec. 6, 2016)
Visitors to the Governor's Mansion this holiday season will be greeted by sugary-sweet aromas, and contributing to the smells wafting through the house is a work of art created by Chattahoochee Tech Culinary Arts students.
Celina Vicente of Powder Springs, Sara Sheets of Evans, as well as Melanie Till and Daniel Lee, both of Marietta, took a break from preparing their usual gourmet recipes in order to create a gingerbread house replica of the historic Sapelo First African Baptist Church, which was originally built on Sapelo Island in 1866 by freed slaves in the post-Civil War era. Adorned with icing, peppermints and other candies, CTC instructor Chef Hillary Gallagher said the structure encompasses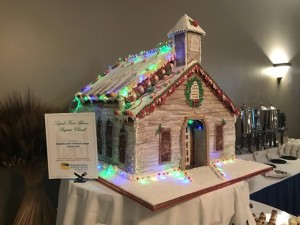 the church's history and the holiday spirit.
"What made this gingerbread house stand out was the intricacies involved in the assembly and production. Due to the importance of this church, we made every effort to keep the rustic design while adding in the holiday spirit in a way that complemented the church's look," she said.
The original Sapelo First African Baptist Church was destroyed by a hurricane in 1898, but members of the church rebuilt the structure two years later at its current location in an area known as Raccoon Bluff with lumber that had washed ashore. The church, which was once used as a center of worship by descendants of freed slaves, has been mostly unoccupied since 1968.
Although the Culinary Arts program, located on the Mountain View Campus in Marietta, hosts a gingerbread house competition each year, this was the first year students had been asked to create a gingerbread house for Gov. Nathan Deal to display. The program's ticket into the Governor's Mansion happened by chance, as a student currently works in the mansion's kitchen and learned of the First Lady's desire to have the church featured.
"Our Culinary Club, the White Hat Brigade, took the lead on this project and collaborated together on the design and decoration ideas. We had about six students help on the process of planning, producing and assembling the gingerbread house," Gallagher said. "In order to properly support the size, we had a wooden support system built by Fred Goosman, our amazing maintenance man, to keep the gingerbread stable through transportations."
The gingerbread house replica of the Sapelo First African Baptist Church will be on display now through Dec. 16.