Four recent Chattahoochee Technical College graduates are well equipped to start their careers in the automotive and diesel repair industries thanks to the professional tool sets awarded to them through the Mike Peterson Memorial Scholarship Award.
Donors Alan and Claire Peterson presented Robi Glass, Mike Lowe, Jacob Mollica, and Mahamadou Tunkara with Snap-on tool sets valued at approximately $6,000 each along with roll carts in a ceremony held Tuesday, June 6, at the college's Marietta Campus. Lowe, Mollica and Mahamadou graduated in May from the college's Automotive Technology program, with Glass graduating from the college's Diesel Equipment Technology program. Glass and Lowe also are military veterans who both served for many years in the U.S. Marine Corps.
For the past 20 years to honor the memory of their son, Alan and Claire Peterson have presented Snap-on tool sets needed by Chattahoochee Tech students entering the automotive and diesel industries. The college honored the Petersons five years ago as the Chattahoochee Tech "Volunteer of the Year" to thank them for their many years of dedicated service in raising the money needed to fund the tool set awards.
"The Petersons have made a real difference in the lives of our students who are now working all across Metro Atlanta," said Chattahoochee Tech President Dr. Newcomb. "We hear so often the challenges our automotive and diesel students face purchasing the expensive tool sets needed upon graduation. The gifts of these tool sets have been essential in helping them overcome that financial obstacle and move forward in their careers."
In order to be considered for this award, Chattahoochee Tech students enrolled in the Automotive Technology and Diesel Equipment Technology programs had to meet award GPA requirements, complete an application, write an essay, and provide a letter of recommendation from a current Chattahoochee Tech faculty member.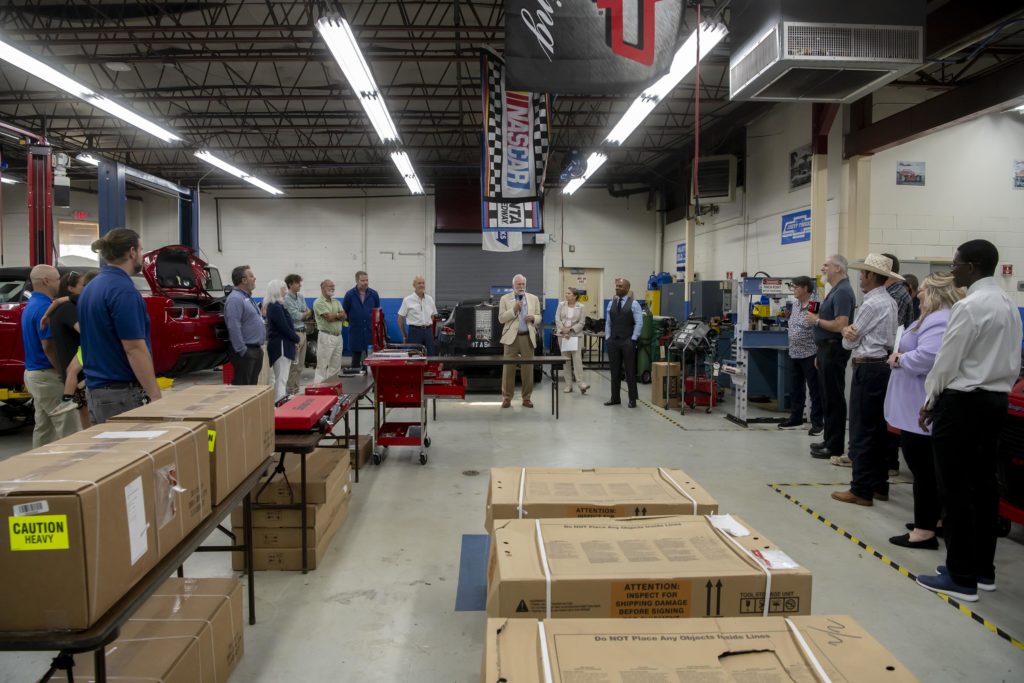 Chattahoochee Tech hosted the awards presentation at the Marietta Campus in the Automotive Technology program lab. Shown in the top photo, l-r, are Chattahoochee Tech President Dr. Ron Newcomb, Alan Peterson, Jacob Mollica, Mike Lowe, Muhamadou Tundara, Robi Glass, Claire Peterson and Darion Dunn, who is a member of the Chattahoochee Tech Foundation Board of Trustees.