Chattahoochee Technical College celebrated Engineers Week (EWeek) 2020 with events designed to showcase engineering and highlight the role of women in this field.
Chattahoochee Tech students in the college's Electrical and Computer Engineering Technology program demonstrated their projects in a well-attended public presentation held Feb. 19 at the college's North Metro Campus. This event also featured robots and hands-on engineering activities. On Feb. 20, which was the EWeek 2020 "Introduce a Girl to Engineering Day," the college offered a screening of the movie "Hidden Figures."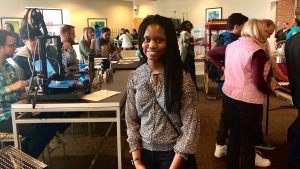 One of the Chattahoochee Tech students participating in these EWeek 2020 events was Elizabeth Johnson, a student in the college's Electrical and Computer Engineering Technology program. She is also currently employed as a highly skilled Controls Engineer at voestalpine in Bartow County. "I wire up safety devices," said Johnson about her job. "Sometimes it involves wiring things in a control panel, and sometimes I do programming. We make car parts, and have really big machines."
"People at work tell me they're proud of me, because they don't normally see a woman in engineering," said Johnson. "I'm getting a lot of encouragement there." Johnson said that she began working at voestalpine as an apprentice during her junior year at Woodland High School through the Bartow County College and Career Academy. She is now on track to graduate from Chattahoochee Tech in December 2021 with an Associate of Applied Science degree in Electrical and Computer Engineering Technology.
"I'm really glad I'm here at Chattahoochee Tech," said Johnson. "Technical colleges are not as expensive as universities. And there's a lot more hands-on learning here. I need to be learning hands-on things now for my job."
Participation in the Chattahoochee Tech EWeek 2020 events by students like Johnson illustrates the successful impact of the EWeek initiative, according to Stephanie O'Donoghue, the college's lead instructor in the Electrical and Computer Engineering Technology program. Founded by the National Society of Professional Engineers (NSPE) in 1951, Engineers Week is dedicated to ensuring a diverse and well-educated future engineering workforce by increasing the understanding of and interest in engineering and technology careers. "Engineers are doing great and creative things every day to make the world a better place," said O'Donoghue.