Chattahoochee Technical College has honored its board of directors retiring member Rev. Carl A. Moore Sr. with the college's Golden Eagle award for his many years of outstanding service. He began his board service nearly a decade ago, in 2011, and served as chairman in 2015.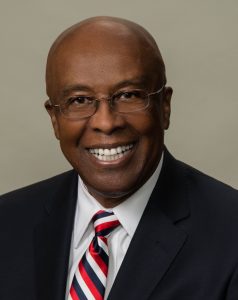 "Rev. Moore has been deeply involved in supporting efforts on behalf of the college to change lives and improve our community," said Dr. Ron Newcomb, president of Chattahoochee Technical College. "His leadership has been invaluable in promoting the value of technical education in Georgia, and we greatly appreciate his service. We are also inspired by his lifelong legacy of advocating for others, and bringing people together from every walk of life." Moore, of Cherokee County, is the retired senior pastor of Allen Temple A.M.E. Church in Woodstock, where he continues to provide leadership on behalf of the community.
Chattahoochee Tech Board of Directors actions this week also included the board chair passing of the gavel from Steve Holcomb, past president and CEO of United Community Bank, to Jim Larson, director of talent for Yancey Bros., Co. Serving as the new vice chair is Debbie Underkoffler, president and CEO of North Georgia Staffing.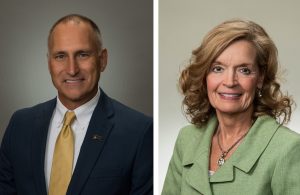 "Both Jim and Debbie are committed to supporting the college and our students," said Dr. Newcomb. "Jim has facilitated several student leadership programs, while Debbie continues to be a sponsor for the college's Reverse Raffle fundraiser that supports student scholarships and emergency grants."
Larson expressed his steadfast commitment to his new role as board chairman in the face of added challenges caused by the coronavirus pandemic gripping the world. "In trying times, if you can't do what you normally do, then do what you can," said Larson. "Make a difference and leave whatever you do a little better than how you found it."