Paramedics and emergency medical technicians educated at Chattahoochee Technical College are serving as essential frontline responders in the community during the ongoing COVID-19 coronavirus pandemic.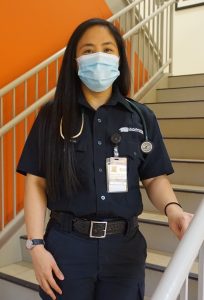 "Each day that I go into work, I don't know what emergencies will take place, and what types of calls I will be responding to," said Chattahoochee Tech graduate Rose Velasco, of Villa Rica, who works as an advanced emergency medical technician (AEMT) for MetroAtlanta Ambulance Service. "The diversity of what we may encounter on a daily basis keeps me on my toes."
Because of the coronavirus pandemic, it is essential for Velasco to take extra precautions when providing medical help on the scene of an accident or emergency. "You never let your guard down," she said. "A person who is COVID-19 positive could be asymptomatic and not know they have the virus. So as medical providers in the field, we need to be mindful about every encounter we have by wearing the proper PPE (personal protection equipment) to each 911 call we respond to." The PPE items that have become a vital part of her daily routine include N95 masks, protective eyewear, gloves and face shields.
Also working for MetroAtlanta Ambulance is Chattahoochee Tech student Sarah Bourque. A graduate of Pickens County High School, Bourque is working for the ambulance service while she completes the college's paramedicine program. "It's really busy! We're running calls as soon as we get to work," said Bourque. "I work in Cobb County on 12-hour shifts instead of 24-hour shifts, which is helpful while I'm in school."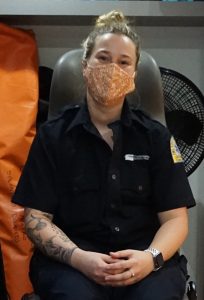 These Chattahoochee Tech students are highly encouraged to work in the field while they are going through school. "It is helping to prepare them for when they graduate," said Ryan Dehnert, director of the college's Emergency Medical Services (EMS) Professions program. "Our students are very well prepared to step directly into their roles to serve the healthcare needs of the public in times of medical emergencies."
Even before the COVID-19 pandemic, there was a high demand for graduates at all levels of service in this field – paramedicine, AEMT and EMT. Local communities continue to have a great need for these medically skilled frontline responders. "It's a need all around the nation, here as much as anywhere else," said Dehnert. "There are no issues with getting a job."
At Chattahoochee Tech, students interested in this career field must start at the EMT level. "Even in order to become a paramedic, you have to do the EMT level first," said Dehnert. The EMT program at Chattahoochee Tech takes two semesters to complete and advanced EMT is then one additional semester. The college's paramedicine occupational courses can be completed in four semesters. At each level of this training, the HOPE Career Grant is available for qualified students.
Students can come into the Chattahoochee Tech EMS Professions program right out of high school to train as an EMT. This program also attracts students who have previous college experience, as well as those who are a little older and want to make a career change. With a bachelor's degree in international business, AEMT Rose Velasco had worked in venture capital, financial consulting and business development before enrolling at Chattahoochee Tech to begin a new career in emergency medical services.
The type of students who typically enroll in this high-demand career program are "really committed to improving the lives of others," said Brian LeSage, an instructor in the Chattahoochee Tech EMS professions program. "The commitment that our current students are making in the middle of a pandemic is a huge service for the Metro Atlanta area," said LeSage. "It speaks volumes about their compassion for the community."