The Adult Education Department at Chattahoochee Technical College was honored with multiple state awards presented this week by the Technical College System of Georgia (TCSG). The college received these awards during a TCSG Adult Education state gathering held at the Renaissance Atlanta Waverly Hotel & Convention Center in Cobb County.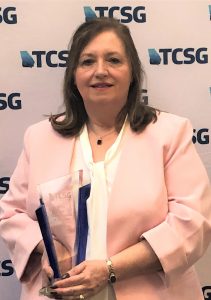 Tammy Brown, who serves as a GED chief examiner in the Chattahoochee Tech Adult Education Department, was named by TCSG as the GED Examiner of the Year. She is based at the college's Appalachian Campus in Pickens County, and administers General Educational Development (GED) testing at multiple campus locations, which include the college's Appalachian, Paulding and North Metro campuses. She also administers testing in Cherokee County, at the Cherokee Detention Center. The GED tests are a group of exams which, when passed, provide certification that the test taker has high school-level academic skills. The GED is an alternative to a high school diploma.
Additional Adult Education awards presented to Chattahoochee Tech at this TCSG event included the Fiscal Year 2019 Life Changer award, as well as an honorable mention for the Star Keeper award. The Life Changer Award signified that the Chattahoochee Tech Adult Education Department achieved the greatest high school equivalency completion percentage for a medium-size program. The Star Keeper award recognized outstanding attainment in student retention for the college's Adult Education program.
The Adult Education program at Chattahoochee Tech offers free GED preparation classes, as well as English as a Second Language (ESL) classes and business soft skills classes. The college's Adult Education program learning centers are located in Bartow, Cherokee, Gilmer, Paulding and Pickens counties.