(Marietta, Ga. – Nov. 11, 2016)
With unwavering respect, gratitude and complete appreciation for the selfless men and women who serve this country with courage and strength, Chattahoochee Technical College unveiled its Veteran Service Center during the Fourth Annual Veterans Day Appreciation and Recognition event held on the Marietta Campus on Nov. 11.
With more than 700 enrolled veterans or veteran family members as well as more than 50 military employees who have served or are still serving in the reserves, Chattahoochee Tech boasts the second highest veteran population in the Technical College System of Georgia.
"Chattahoochee Technical College rallies behind those who have endured the dangers of warfare and provides unparalleled support to their family members," said CTC President Dr. Ron Newcomb. "The veterans attending our college have sacrificed time away from their loved ones in order to fight to give us the rights and privileges that we so cherish. It is now our turn to serve them as they adjust and seek normalcy in their lives. The stresses they face are predominantly a shared characteristic among the veteran community, and we feel it is our obligation at CTC to serve and support them during their transition."
Through the Veteran Service Center and continued outreach, such as advisory committee groups throughout the college's six-county service area, Chattahoochee Technical College pledges its continued commitment to ensure the college's veteran population, as well as their family members, receive the care and recognition they deserve.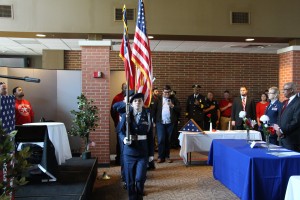 At the Veteran Service Center, Chatt Tech veterans and their families will have access to "the Essentials" such as counseling services, career advising and computers for coursework research. In addition, workshops and guest speakers on pertinent topics, such as PTSD and traumatic brain injuries, will be offered. Faculty and staff are also encouraged to develop a strong awareness of military culture by participating in the college's Green Zone program, which better equips them to support veterans in the classroom and throughout the college.
The Veteran Service Center was made possible, in part, by a $12,000 donation from AT&T, which was awarded to the college for its participation in AT&T's $20K for 2020 workforce development competition this summer. AT&T's External Affairs Regional Director Don Barbour, who serves on the Chattahoochee Tech Foundation Board of Trustees, presented the check to the college as part of the corporation's continuing commitment to support workforce development efforts.