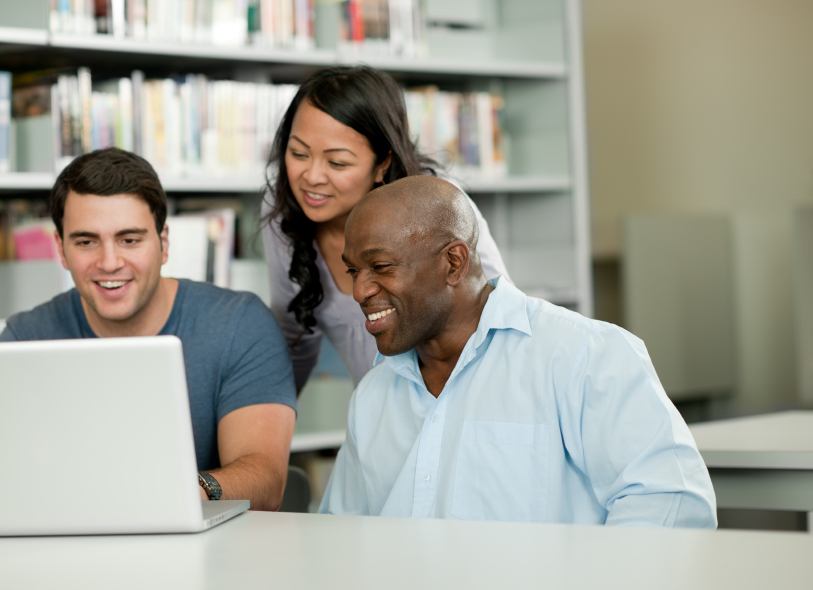 Our students come to our learning centers for a variety of reasons. Mostly, people want to earn a GED® diploma so that they can go to college or get a better job. Others want to be able to help their children with their homework while many want to achieve some personal goal in life.  Regardless of your goal, our staff is here to help.  We value education because it changes lives.  We value our students because they have the courage to leave the past behind, walk into one of our learning centers, and begin a positive step toward the future.
Our classes are free and, in most locations, day and evening instruction is available.  While you're with us, we'll expect you to work hard but also let us know when you don't understand something.
We're in this together, and that means when you succeed, we succeed!
Here's a GED success story…
Click here to watch the video.
Here's another GED success story…
Click here to watch the video.
---
Apply for the program:
18-Year-Old and Over Registration Requirements
Verification of Eligibility for Public Benefit Affidavit Directions
In accordance with Georgia law (O.C.G.A. § 50-36-1), Office of Adult Education grantees who receive state funds must require every applicant (ages 18 and over) to provide a secure and verifiable document and execute a signed and sworn affidavit verifying his or her lawful presence in the United States in order to be eligible to receive the public benefit of adult education.
For a list of secure and verifiable documents, refer to the "List of Secure and Verifiable Documents" posted at http://law.ga.gov/immigration-reports
---
Chattahoochee Technical College GED Prep Offices:
Ellijay
Ellijay Learning Center
18090 Hwy. 515
Ellijay, GA 30536
706-276-1185
adulted-ged@chattahoocheetech.edu
Directions
Classes Offered: GED Prep
Jasper
Chattahoochee Technical College – Appalachian Campus
100 Campus Drive
Jasper, GA 30143
Phone: 706.253.4527
adulted-ged@chattahoocheetech.edu
Directions
Classes Offered: GED Prep