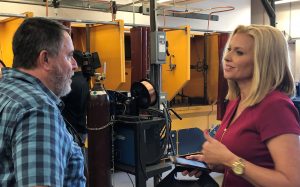 Atlanta's WSB-TV Channel 2 television station showcased the Chattahoochee Technical College welding program in a television news broadcast on Thursday, Aug. 1. Channel 2 News Anchor Linda Stouffer toured the college's Paulding Campus welding lab and interviewed Chattahoochee Tech Welding Instructor Jim Thomas, who noted that Chattahoochee Tech welding students gain valuable skills which translate into good jobs in a high-demand career field.
"The Chattahoochee Tech welding program features a world-class welding lab with a curriculum that matches industry expectations," said Thomas, who emphasized that opportunities exist in this profession for men and women.
Stouffer also interviewed Chattahoochee Tech welding students Sarah Macedo, Katarina Highley-Sowers and Ceason Eisele. These three students each demonstrated their welding skills, showing that this profession is for women too. Making use of Computer Numerical Control (CNC) technology, Thomas guided the welding class in created a "CTC Welding" memento that they presented to Channel 2 News Anchor Linda Stouffer.
Check out the WSB-TV Channel 2 news story here: Chattahoochee Tech Welding.