Chattahoochee Tech Foundation: Stay the Course Campaign
Emergency Funds to Support Students Financially Impacted By Coronavirus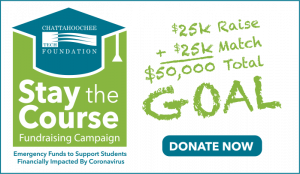 Help us support our students' educational paths. COVID-19's unexpected and far-reaching implications have caused some students to face extreme financial hardships as they navigate this pandemic.
The CARES Act: Higher Education Emergency Relief Fund assists some, but not all, who have been negatively impacted by the interruption in education and transition to a digital learning format. We are seeking support for students who have found themselves at risk of not completing their degrees.
Our goal – to raise $25,000.
Donate today at Chattahoochee Tech Foundation: Stay the Course
The Chattahoochee Tech Foundation will match those donations and create a COVID-19 Student Fund for a total of $50,000.
Funding requests will be based on need and determined by a committee composed of representatives from several units within the college, including student affairs and financial services. Funds will be allocated directly to students for the specific use of financial hardships that include food and housing, transportation, payments for tuition, books, and other education-based needs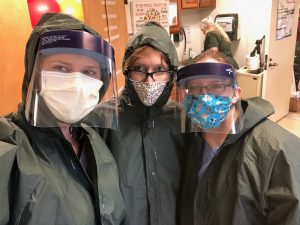 Check out how our Physical Therapy Assistant Program graduates continue to serve their community during the COVID-19 pandemic here.
Despite the additional challenges presented during the global COVID-19 pandemic, Moore remains steadfast in her commitment to serving with her team as highly skilled healthcare professionals. "I love my job, and I enjoyed being in the Chattahoochee Tech PTA program," said Moore.