(Paulding, Ga. – Oct. 16, 2017)
About 100 Chattahoochee Technical College nursing, medical assisting and Emergency Medical Technician (EMT) students recently engaged in a mass casualty simulation on the Paulding Campus. The event, operated in conjunction with CTC Campus Police and held Wednesday, Oct. 12, was orchestrated in order to have students experience working in high-stress conditions and having to use their knowledge under these conditions.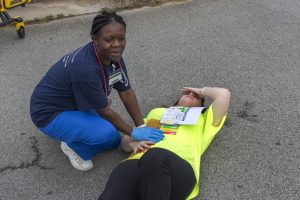 "I think in light of what is going on now in society, simulations like this really heighten students' awareness of what their jobs will be like as future nurses," nursing instructor Adriene Smith said.
Outside, students in the junior class were the mock injury victims, with symptoms ranging from gunshot wounds and staph infections to asthma attacks and injured ankles. These students kept up the pressure for student EMTs and nurses on the scene by constantly asking questions and yelling out in pain.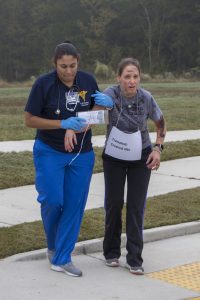 Inside, mock victims spoke with nurses who further addressed their conditions. In addition, a conference room was set up to simulate how friends and family may arrive to a disaster site seeking answers and comfort.
"Our senior students had no idea what they were walking into other than being briefed by campus police," Smith said. "It's the same as nurses being put in that situation — you show up to the scene and you triage."
For more information on Chattahoochee Tech and for details on all of the college's health sciences programs, visit ChattahoocheeTech.edu.