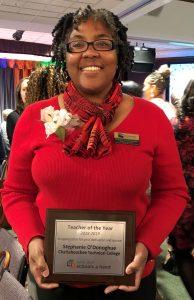 The Cobb Chamber of Commerce presented Stephanie O'Donoghue of Chattahoochee Technical College with the Teacher of the Year award for post-secondary schools on Tuesday, Oct. 23, at a teacher appreciation event hosted by the Chamber at Roswell Street Baptist Church in Marietta.
Held annually since 1988, the Cobb Chamber's "Give Our Schools a Hand" teacher appreciation celebration honors deserving teachers from Cobb County, Marietta City and post-secondary education systems for their dedication and service. This salute to public education is one of the largest in the nation, according to the Cobb Chamber, and is designed to not only show appreciation for teachers in the community, but also to encourage area businesses, parents and civic groups to take an active role in enhancing the quality of education.
O'Donoghue, who serves as the Engineering Technologies Lead Instructor for Chattahoochee Tech, also received the State 2018 Rick Perkins Award for Excellence in Technical Education. As the 2018 State Rick Perkins award winner, O'Donoghue is serving throughout the state as an ambassador for technical education.