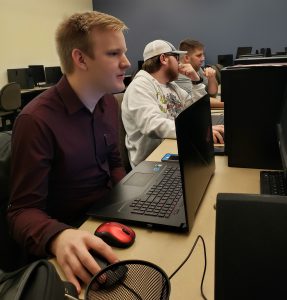 A team of highly skilled cybersecurity students from Chattahoochee Technical College won the national cybersecurity competition hosted recently by the Computing Technology Industry Association (CompTIA). This team consisted of Kevin Borah, of Cherokee County, along with Will Duncan and Michael Grimes, both of Paulding County.
"This kind of event takes what they're learning in school and puts it into a real-world scenario," said Max Trivers, a Technology Systems Support Technician at Chattahoochee Tech. Trivers also serves as the advisor for the college's CompTIA student chapter. CompTIA issues professional certifications for the information technology (IT) industry, according to Trivers, and is considered to be one of the IT industry's top professional groups.
Chattahoochee Tech students Borah, Duncan and Grimes all are pursuing Associate of Applied Science degrees in the college's cybersecurity program. This winning team's college coursework during the fall semester ranged from classes in Network Security, Computer Forensics, and Network Defense & Countermeasure to courses in Hardware Installation & Maintenance, Computer Concepts, and Computer Networking Fundamentals. Chattahoochee Tech's cybersecurity program is offered at both the Marietta Campus and Woodstock Campus.
"We have a stellar cybersecurity program at Chattahoochee Tech," said Trivers, who noted that students are learning  what they need to become highly skilled IT professionals. "These students used skills in the CompTIA competition that are necessary in the professional cybersecurity industry. They worked as a team and stayed engaged in order to win."