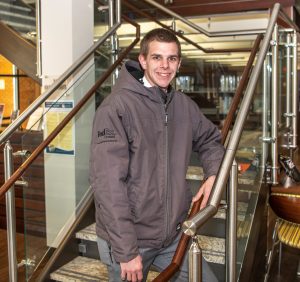 Chattahoochee Tech graduate Michael Farina, of Cobb County, is putting his college degree to good use as a highly skilled professional at FedEx while he continues to pursue educational opportunities offered by the college.
Farina, who graduated in December 2018 with an Associate of Applied Science degree in Industrial Maintenance and Electrical Technology, has worked for the past year as a Maintenance Technician at the FedEx Ground center in Kennesaw. "It's a good job," said Farina. "It involves fixing and maintaining the machines, making sure everything works. You go in and work on conveyor belt sorters, PLCs (programmable logic controllers), and you work with computers and servers. It's a lot of mechanical and electrical work."
If Farina, 25, could hit the rewind button, he said he would have enrolled at Chattahoochee Tech upon graduating from Kell High School in 2012. "I went to Kennesaw State my freshman year, and I lived on campus," said Farina. "I stayed there for about two years and dropped out, actually." After beginning there as a political science major, he switched his major to finance. "But I realized I couldn't sit in a cubicle for the rest of my life," said Farina.
After switching majors again, he became discouraged about his educational path and opted to quit school altogether. He began working long hours as a cook at some of Atlanta's most popular restaurants until taking a look at what Chattahoochee Tech had to offer. "My Dad said, what about a technical college?" said Farina. "He knew I was always mechanically and technically inclined, and that I was smart enough to get a college degree if I wanted one."
Farina visited Chattahoochee Tech with his parents and met instructor Joe Kazemian in the Industrial Maintenance and Electrical Technology program, which is located on the college's North Metro Campus in Acworth. "He showed me around and told me what they do in this program," said Farina. "My Dad was impressed. At the time, I started doing this more for my Dad, and not so much for myself. But I ended up really liking this program, and I did well. I made mostly A's and a few B's."
This semester, Farina continued his studies as a part-time student at Chattahoochee Tech in order to secure coursework that will transfer easily into a four-year college toward a Bachelor of Applied Science degree. "I like Chattahoochee Tech because the class sizes are a lot smaller," said Farina. "And I was not charged a ridiculous amount of student fees."
Thanks to his Chattahoochee Tech experience, Farina was successful in launching a career as a highly skilled professional who is eager to continue with relevant and real-world higher education. "I'm going to go for a bachelor's degree in Manufacturing Operations first, and then take six more classes to get another bachelor's degree in Supply Chain Logistics," said Farina. "I'll also be going for Six Sigma Green Belt certification. Then, I'll go for my master's degree in Systems Engineering. If you work hard enough, you can do anything, even in a technical college."