Over 100 Chattahoochee Technical College nursing students convened for a two-day leadership seminar held recently at the college's Paulding Campus. Featured speakers at this Chattahoochee Tech event included WellStar Health System Executive Director of Nursing Rebecca Deal.
"Recently in the media, they focused again on the nursing shortage in Georgia," said Deal. "For an organization like WellStar to be partnering so closely with Chattahoochee Tech to give these nursing students an opportunity to do their clinical practice with us and hopefully transition into a professional role with us is so valuable for them and also for us as an employer."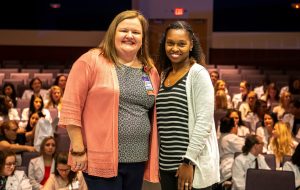 "Chattahoochee Tech nursing students are among the best and brightest," said Deal. "They are high-quality students who are committed to nursing. They have a wonderful reputation, and it is such a pleasure to have them."
There are a lot of career opportunities for Chattahoochee Tech nursing students, according to Chattahoochee Tech Dean of Nursing Quetina Pittman Howell, who noted that the college's two-day leadership seminar was designed to provide students with an insight into the many career paths available for them, as well as to advance their professional development. The seminar also included a formal candle-lighting ceremony to welcome junior nursing students into the profession.
"The candle-lighting ceremony signifies the beginning of their journey into the nursing profession," said Pittman Howell. "They're taking the vow to uphold the legal and ethical standards of a nurse. And it signifies that they are now a part of this profession."
"We appreciate the fact that they have come into the nursing program," said Pittman Howell. "We understand that it is a rigorous program, but we know that they can make it."
Chattahoochee Tech offers a program of study for training Registered Nurses as well as a program for training students to become Licensed Practical Nurses. The college's Associate of Science in Nursing program was ranked recently among the top three programs in the state out of 53 programs for Registered Nursing in Georgia. The college's Practical Nursing program recently was ranked as the top LPN program in the state out 21 programs for Practical Nursing in Georgia.