Chattahoochee Tech interior design students have made the world a brighter place for a child with special needs thanks to a class project that was conducted in partnership with the nonprofit Sunshine on a Ranney Day.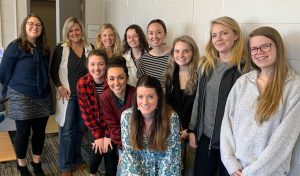 This team of Chattahoochee Tech students planned every detail of a wheelchair accessible dream bedroom and bathroom makeover for 10-year-old Caitlin Davis. A grand reveal was held Tuesday evening, Aug. 12, with a television news crew on site to help capture the moment when she and her parents saw her new bedroom and bathroom for the first time. Their home is located in Alpharetta, a short drive from the Chattahoochee Tech Woodstock Campus, where the college's Interiors program is based.
"We love having a community partner, and especially a nonprofit, that we can assist while gaining real-world experience for our students," said Ginger Burton, who serves as the lead instructor for the college's Interiors program. "Each student had a significant contribution and worked great as part of a team!"
In order to create an aesthetically pleasing and functional design, the students focused carefully on each design detail as well as the bigger picture of project management. They researched materials which ranged from tiles, grout, countertops and paint, to fixtures and wallpaper. They also met with vendors, many of whom donated the items needed for this project. Additionally, these students made use of AutoCAD, computer-aided design technology, in order to create custom ceiling lighting butterfly shapes, which then were cut by computer numerical control (CNC) machines.
"Working in this industry is truly rewarding, and most new students are surprised by the level of detail, planning, and technical knowledge they need," said Burton. "We go far beyond selecting colors and decorating, and provide an instrumental piece in how our interior spaces are built and used. Great design often hides the technical, and simply reveals an enjoyable lifestyle for our home and businesses."
Included among the Chattahoochee Tech students working on this class project was Cassie Keeling, who graduated last spring with an Associate of Applied Science degree in Interiors. She is now employed full time by Ecraft, a local company specializing in residential renovations and new home construction, which also volunteered their services for this project.
"When we were first presented with the project scope, I was so excited that we were going to be able to give back to the community," said Keeling. "The people at Sunshine on a Ranney Day really care about these kids, and it was an honor to be able to collaborate as a team and come up with a design that would work for Caitlin and her family. I am extremely pleased with how everything came together."
Chattahoochee Tech Interiors program alumna Barbara "Babby" Norsworthy, who is also a Georgia Tech alumna, was instrumental in connecting the college with Sunshine on a Ranney Day. Following a 28-year career, she returned to school in order to pursue her interest in interior design. "I chose Chattahoochee Tech because they offer a two-year interior design program, and the Woodstock Campus is convenient to where I live," said Norsworthy. As a Chattahoochee Tech student, she began working with Sunshine for a Ranney Day through the internship program required by the college. Regarding the nonprofit's most recent project, Norsworthy said that the Chattahoochee Tech students "brought a fresh perspective to the makeover design."
"Caitlin's new bedroom and bathroom provide the necessary functionality, while also being sophisticated, sweet and playful," said Norsworthy. "The design is also calm and relaxing, which will give Caitlin and her parents a wonderful sanctuary."
The team of Chattahoochee Tech students who worked on this project included Lucretia Cochran, Amber Farist, Hanna Funes-Cruz, Lauren Holt, Allyson James, Cassie Keeling, Jamie Petraglia, Sierra Smith and Jamie Thon. "I enjoyed seeing their talents and strengths emerge individually and as a group," said Burton. "I could not be more proud of them!"
For the past eight years, Sunshine on a Ranney Day has worked through partnerships and donors to provide no-cost home renovations valued at tens of thousands of dollars for children with special needs using top-of-the-line design and construction. Included among the companies that helped sponsor this project were: Cambria; Ecraft Homes; Kids 'R' Kids Learning Academies; MCN Enterprises; PMC Building Materials; Reliable Heating & Air, Plumbing & Electrical; and U.S. Cabinetworks. The following companies also provided resources: America Signature Furniture; Chick-fil-A Avalon; Delta Faucet; Echols Glass & Mirror; Ferguson; Interceramic USA; Keuco USA; Net Studio Collection; Nicole W Photography; Phillip Jeffries Ltd.; and Pulley & Associates.