(Acworth, Ga. – Sept. 27, 2017)
As part of its commitment to provide financial support to the college, its students, and programs, the Chattahoochee Tech Foundation will host its largest annual fundraising event next month.
CTC's Reverse Raffle fundraiser will be held on Oct. 19, at 6:30 p.m., in the D building of the North Metro Campus, 5198 Ross Road in Acworth. Stephanie Hubbell, director for Alumni and Annual Giving, announced that the funds will be used primarily to help provide scholarships and grants as well as to support program or facility needs.
Tickets to the Reverse Raffle are $100 each and include admission for two, two dinners and chance at the $5,000 grand prize. Sponsorships are also available beginning at $1,500, and include eight raffle tickets, a private table with eight seats, as well many other sponsor benefits prior to and during the event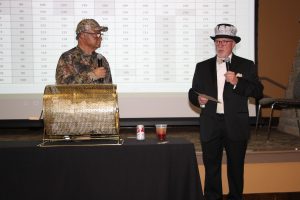 Unlike a typical raffle, with the Reverse Raffle, the purchaser of the last ticket drawn wins the grand prize. The final five ticket holders will be asked to come forward at the end of the event. These five ticket holders will have the opportunity to decide whether to continue with the raffle or split the grand prize five ways. If one person does not want to split the prize, the raffle will continue and another ticket will be drawn.
The fundraiser is back by popular demand after returning in 2016 following a six-year hiatus.
"This is a great opportunity for community members to get together for a great meal, fellowship and fun while also contributing to a great cause," Hubbell said. "We are always looking for new ways to engage with our community and to raise money to help our students and the college."
Chattahoochee Technical College has a longstanding history of providing not only essential training and education to more than 14,000 students annually in Bartow, Cherokee, Cobb, Gilmer, Paulding, and Pickens counties but also playing a fundamental role in workforce development. Designed to support the mission of Chattahoochee Technical College, the Foundation partners with businesses, alumni, and community stakeholders to make higher education an affordable reality for students in the community.
During fiscal year 2017, the Chattahoochee Tech Foundation awarded $80,650 in scholarship funds, issued $10,227 in emergency tuition grants and provided $1,500 in emergency assistance grants to students facing financial issues prohibiting them from completing their studies.
For more information, visit www.ChattahoocheeTech.edu/ReverseRaffle.