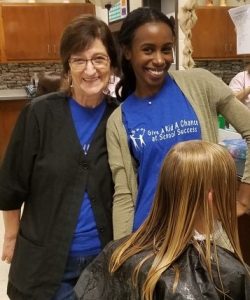 Bartow County students returning to school for the first day of class on Wednesday, Aug. 7, are looking great thanks to the volunteer efforts of the Chattahoochee Technical College Cosmetology program. For the past 10 years in a row, Chattahoochee Tech Cosmetology students and program graduates have volunteered at the annual Bartow Give a Kid a Chance back-to-school event to provide free haircuts for Bartow County school children.
"We did probably close to 100 haircuts this year at this wonderful event," said Chattahoochee Tech Cosmetology Instructor Colette Arp, who noted that 15 Chattahoochee Tech Cosmetology students and five program graduates volunteered their skills and time. Arp has led the college's volunteer efforts at this event for the past decade.
"We wanted to help the kids with one of their most important needs, which is a new haircut," said Arp. "If they look good, then they feel good!"
Through the annual Bartow Give a Kid a Chance initiative, Bartow County children in need can receive a haircut, backpack, school supplies, t-shirt, and health screenings free of charge, according to Arp. This year's event was held during the last weekend of July at various sites in Bartow County, including the Bartow County College and Career Academy in Cartersville, where volunteers from the Chattahoochee Tech Cosmetology program provided the children with free haircuts. The Chattahoochee Tech Cosmetology program prepares its students for the state professional licensure requirements, and is offered at three of the college's campuses – the North Metro Campus in Acworth, the Marietta Campus, and the Appalachian Campus in Jasper.