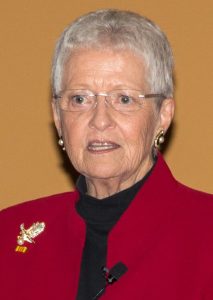 Chattahoochee Technical College celebrated this year's Veterans Day with an appreciation event at the college's North Metro Campus featuring Vietnam Veteran Donna Rowe, of Cobb County, as the keynote speaker.
Rowe noted the significance of U.S. Veterans who have served throughout history, and described her service as a U.S. Army Nurse in charge of triage and ER medicine in the war zone of Vietnam. Upon the conclusion of her presentation, the national organization "Quilts of Valor" presented both Rowe and the college's Veteran Services Coordinator Dr. Barry Munday with hand-made quilts to thank them for their military service.
The Chattahoochee Tech 2018 Veterans Day event also featured an Armistice Day 100th anniversary remembrance, the traditional POW/MIA remembrance ceremony, a color guard and a student video presentation prepared by Chattahoochee Tech student and military family member Kim Hale, of Paulding County. Veteran Services Coordinator Barry Munday also presented an award of appreciation to Chattahoochee Tech Instructor Sheri Easton-Long for her longtime support of veterans at the college.
Included among the dignitaries attending this event were Jim Cunningham and his wife, Jan, of Cobb County,  along with Colonel Bob Reitz and his wife, Suellen, of Pickens County. The college's newly renovated Jim Cunningham Veteran Services Center is named for Jim Cunningham, a 21-year U.S. Army Veteran, who served in Vietnam.
Chattahoochee Technical College has approximately 800 veterans and military family members who are students at the college. Leading the initiative to support student veterans and their family members at Chattahoochee Tech is Veteran Services Coordinator Dr. Barry Munday, a resident of Carrolton and a 30-year U.S. Air Force veteran who holds a doctorate in Biblical Counseling.