Chattahoochee Technical College honored 723 students who graduated from the state's largest technical college during two commencement ceremonies held Thursday, Dec. 12, at the Clarence Brown Conference Center in Cartersville.  The students participating in commencement crossed the stage to receive a technical certificate of credit, diploma or Associate of Applied Science degree.
Fourteen students who participated in the commencement ceremonies completed their programs of study as honor graduates. They each earned a 4.0 cumulative GPA and wore gold cords to signify their accomplishment. Nine students who participated in commencement were military veterans, and wore red, white and blue honor cords during the ceremony. Also included among the graduates were 20 students who had received scholarships administered by the Chattahoochee Tech Foundation, a nonprofit organization that works to make higher education an affordable reality for students at Chattahoochee Tech.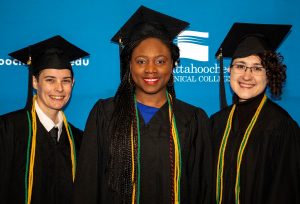 Honor graduates Thelma Nora and Judy Newman, both of Cobb County, and Alex Cote, of Douglas County, all expressed appreciation for the positive impact of their scholarships. Nora received the 2019 Lockheed Martin Aeronautics scholarship as well as the 2018 CareSource scholarship. "These scholarships definitely helped, and I can't express my gratitude enough, said Nora, who graduated with an Associate of Applied Science degree in Computer Programming. Cote and Newman both graduated with Associate of Applied Science degrees in Automotive Technology. "My scholarship made a big difference in alleviating the financial stress of paying for school," said Cote, a recipient of the 2019 Ed Voyles Automotive Group scholarship. "I would really like to thank the Foundation and Ed Voyles," said Cote. Newman received the 2019 Beacon Foundation scholarship. "Having that scholarship really enabled me to give more time to my studies, which was hugely appreciated," said Newman.
The most popular areas of study for graduates were programs in Health Sciences, which included Nursing, Physical Therapist Assistant (PTA), Radiography, and Medical Assisting. Popular programs of study also included Business Management, Computer Programming and Television Production Technology, along with Welding and Joining Technology, and Automotive Technology. Delivering the commencement address for both ceremonies was Chattahoochee Tech PTA Program Director Stephanie Puffer, who is the college's 2019 Rick Perkins Instructor of the Year.
A Unit of the Technical College System of Georgia, Chattahoochee Tech has eight campus locations serving the counties of Bartow, Cherokee, Cobb, Gilmer, Paulding and Pickens. Chattahoochee Tech offers over 50 programs of study for students to become highly skilled professionals in some of the nation's fastest-growing, high-demand career fields.