The Adult Education Program at Chattahoochee Technical College celebrated GED and ESL graduates with a recognition ceremony on Thursday, June 20, at the college's Appalachian Campus in Jasper.
Chattahoochee Technical College Board of Directors incoming Chairman Steve Holcomb, Past President and CEO of United Community Bank – Cherokee, congratulated each of the 93 graduates crossing the stage at this event. Delivering the keynote address was Pickens County Sheriff Donnie Craig, who shared an inspiring account of earning his GED diploma many years ago.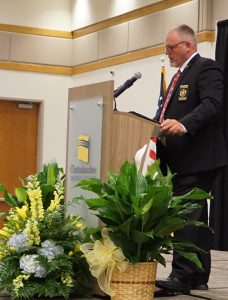 "I encourage each one of you to let this be just the beginning of what you can do," said Sheriff Craig, "Don't look back behind you and worry about where you've been. But look ahead, and set those goals as high as you can set them."
Included among the GED graduates at this year's event was Dylan Claude Farist whose grandfather, Chattahoochee Tech Biomedical Technology Adjunct Instructor Dr. Mike O'Rear, presented him with a certificate of achievement for earning his GED diploma.
"This event is the highlight of our year," said Chattahoochee Tech Director of Adult Education Chris Hord, "to see what our students have accomplished, and to see them move on to bigger and better things."
The Chattahoochee Tech Adult Education program offers free GED preparation and ESL classes, with learning centers in Bartow, Cherokee, Gilmer, Paulding and Pickens counties. The GED is a four-subject high school equivalency test that measurer skills required by high schools and requested by colleges and employers, according to the Technical College System of Georgia (TCSG). The four subjects are science, social studies, mathematical reasoning, and reasoning through language arts. The Georgia GED Testing Program is jointly administered by the GED Testing Service, LLC and TCSG.