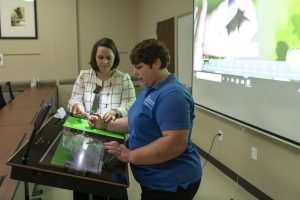 The Chattahoochee Technical College Occupational Therapy Assistant Program continues to thrive in its new location at the Canton Campus in Cherokee County, after relocating recently from the college's Marietta Campus.
"We were excited to move to this new facility," said Chattahoochee Tech OTA Program Director Amy Shaffer. "The OTA program features state-of-the-art technology here at the Canton Campus, and plenty of space to simulate real-world environments for therapy."
A competitive admissions program, the Chattahoochee Tech OTA program is one of only four OTA programs located in Georgia, according to Shaffer. Chattahoochee Tech admitted its first cohort of OTA program students in January 2012, with approximately 16 students admitted into each annual cohort. Students with the necessary prerequisite courses who have been admitted into the college's OTA program can graduate in two years with an associate degree, and have opportunities for employment at assorted types of locations.
"Occupational Therapy is a very versatile field," said Shaffer. "Our program graduates can be found working in local hospitals, skilled nursing facilities, school systems, pediatric outpatient clinics, adult-based outpatient clinics, and even in the home health care environment. We also have former graduates working as health coaches and activity directors."
Occupational Therapy Assistants help patients develop, recover, improve, as well as maintain the skills they need for daily living and working, according to Shaffer. Occupational Therapy Assistants are directly involved in providing therapy to patients, and work under the direction of Occupational Therapists.
According to the Bureau of Labor Statistics, the annual mean wages for an Occupational Therapy Assistant in Georgia in 2018 was over $60,000. Occupational Therapy Assistants are typically paid by the hour, based on their years of experience, noted Shaffer. "Our most recent graduates reported making an hourly rate of up to $25 an hour, depending on their employment setting," said Shaffer. "For two years' worth of schooling at around $10,000, that's a good return on investment for our graduates."
Working with OTA Program Director Amy Shaffer at the Canton Campus is Academic Fieldwork Coordinator Julia McVicker. In addition to this outstanding team of instructors, the Chattahoochee Tech OTA Program features innovative, state-of-the-art technology, including a 3-D printer and HoverCam Pilot technology. The HoverCam Pilot is a fully integrated and wireless digital teaching station designed to help Shaffer and McVicker keep the learning environment engaging and interactive.
"My favorite thing about leading the OTA program is getting to share my love of Occupational Therapy with others, and watch the students grow in their own love for OT as they develop into practitioners themselves," said Shaffer. "I also have such an appreciation for the support from Chattahoochee Tech and their mission to develop the workforce needed in our communities."