(Acworth, Ga. – Oct. 24, 2017)
The Chattahoochee Tech Foundation awarded a grand prize total of $5,000 split five ways during its Reverse Raffle, held Thursday, Oct. 19, at the North Metro Campus in Acworth. This year's winners were Michelle O'Donnell of Georgia Power, Charity Hill of Vinings Bank, Foundation Board Chair and AT&T External Affairs Regional Director Don Barbour, CTC's Kelly Eubanks and CTC's Heather Pence.
In addition, the event raised $36,887 to help deserving students.
"The times where I have been at the end of my rope, and there have also been times when I thought I would have to hold off on achieving my degree because of expenses," student, scholarship recipient and 2006 EAGLE winner Jessica Warren, of Bartow County, said. "Each time I thought I would be held back from my education because of expenses, Chattahoochee Tech provided me the way."
She continued, "I received a scholarship to apply to this current semester and it is helping tremendously. I would not be taking classes right now and being one semester away from getting my degree if I had not received that scholarship."
Unlike a typical raffle, with the Reverse Raffle, the purchaser of the last ticket drawn wins the grand prize. The final five ticket holders are asked to come forward at the end of the event. These five ticket holders are given the opportunity to decide whether to continue with the raffle or split the grand prize five ways. If one person does not want to split the prize, the raffle will continue and another ticket will be drawn.
Chattahoochee Technical College has a longstanding history of providing not only essential training and education to more than 14,000 students annually in Bartow, Cherokee, Cobb, Gilmer, Paulding, and Pickens counties but also playing a fundamental role in workforce development. Designed to support the mission of Chattahoochee Technical College, the Foundation partners with businesses, alumni, and community stakeholders to make higher education an affordable reality for students in the community.
Foundation board chair and AT&T External Affairs Regional Director Don Barbour has been involved with the Foundation for more than ten years. He said donating to the Chattahoochee Tech Foundation is central to AT&T's mission.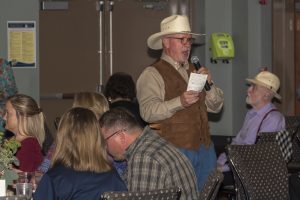 "We support Chattahoochee Tech because we support workforce development in the region that Chattahoochee Tech is the catalyst for," Barbour said. "We specifically provide three scholarships a year to help students with furthering their education."
During fiscal year 2017, the Chattahoochee Tech Foundation awarded $80,650 in scholarship funds, issued $10,227 in emergency tuition grants and provided $1,500 in emergency assistance grants to students facing financial issues prohibiting them from completing their studies.
Chattahoochee Tech Foundation would like to thank the sponsors for the event:
Gold: Rep. Paul Battles, $2,500
Gold: North Georgia Staffing, $2,500
Silver: Taylor Transport, Inc., $1,500
Bronze: Cobb EMC, $1,000
Bronze: Georgia Power, $1,000
Bronze: Croy Engineering, $1,000
Bronze: Jason Anavitarte, $1,000
Bronze: WestSide Bank, $1,000
Bronze: Vinings Bank, $1,000
Bronze: Woodstock Outlet, $1,000
Bronze: WellStar Health System, $1,000
Bronze: Toyo Tire, $1,000
Bronze: Superior Plumbing, $1,000
Beverage Sponsor: Dry County Brewing Company, $1,000
For more information, visit chattahoocheetech.edu/foundation.