Chattahoochee Tech students who will be graduating this semester from the college's Physical Therapist Assistant (PTA) and Occupational Therapy Assistant (OTA) programs met with potential employers at a career fair held for them this week at the college's North Metro Campus.
"It's really exciting to have all these employers come here and be available to speak with us," said Chattahoochee Tech PTA student Cody Johnson, of Bartow County, who will be graduating this semester with an Associate of Applied Science degree. "It's a really good opportunity," said Johnson.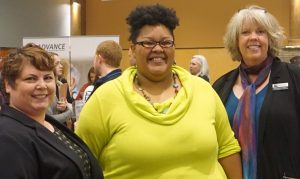 The Chattahoochee Tech PTA and OTA programs are rigorous fields of study and students work hard to earn their degrees, according to the college's PTA Program Director Stephanie Puffer. She also noted that these students are eager to enter the workforce as highly skilled health care professionals. "PTA and OTA students are very motivated to improve the lives of others," said Puffer. "They're excited to get out there and start helping others after all of their hard work in school. These are really great careers."
In the weeks leading up to this career fair, Chattahoochee Tech Career Specialist Ashleigh Davenport met with the OTA and PTA students to help prepare them for meeting with potential employers. "We try to make it as easy and targeted for our students as possible," said Davenport. "We helped them with developing cover letters and targeting their resumes toward certain positions, depending on the job descriptions." She also guided them in soft skills training, which included participating in mock interviews.
Included among the companies represented at this career fair were Advance Rehabilitation Management Group; Floyd Medical Center; Grady Health System; Juvo Jobs; Paulding County School District; Performance PT; Results PT; and Resurgens Orthopaedics. "Having a career fair here with all of these local employers really shows how much our graduates are appreciated when they're doing their fieldwork," said Chattahoochee Tech OTA Program Director Amy Shaffer. "These folks are looking to come in and recruit them for jobs."