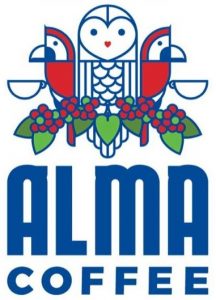 A delicious, farm-to-cup coffee break is now available on the Chattahoochee Tech Woodstock Campus at Alma Coffee. Business has been great since the coffee shop's grand opening eight weeks ago, according to Rachel Neal, a 2016 graduate of Etowah High School who works as a barista for Alma Coffee.
"We've been getting a lot of people in here, and we're super excited for students to come back for fall semester" said Neal. "We've done really well so far, and we're excited about the future."
Alma is owned by Al Lopez, a retired corporate executive and military veteran, along with his daughter, Leticia Hutchins, and her husband, Harry. For five generations, the Lopez family has been involved in coffee farming. They source directly from their own coffee farms in Copan, Honduras, as well as from other farmers located there who are committed to producing high-quality coffee through ethical farming practices. Alma Coffee stores and roasts its coffee at the state-of-the-art Alma Coffee roastery located in Holly Springs. Alma, which means "soul" in Spanish, captures the heart behind their brand's vision, according to Leticia Hutchins.
"We chose the name Alma because it perfectly illustrates the entirety of the heart and soul that we have put into this business, not just by us but by all the generations before us," said Hutchins. "Our goal is to promote direct trade in coffee so farmers can be rewarded fairly for their efforts and be good examples for their children."
Alma Coffee customers can grab a cup of freshly brewed, farm-to-cup Honduran coffee or a bag of locally roasted beans Monday through Friday, from 7:30 a.m. to 3:30 p.m., in an area known as The Circuit on the Woodstock Campus. Open to the public, The Circuit serves as a working space for local entrepreneurs as well as a Student Center. It represents an innovative partnership between Chattahoochee Tech, the Cherokee Office of Economic Development (COED) and the Woodstock Office of Development.