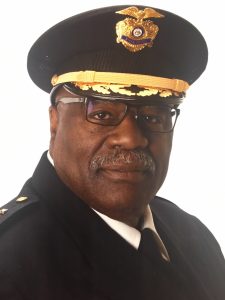 Chattahoochee Technical College's Department of Public Safety has named Alfredrick Campbell, of Cobb County, as the College's new Chief of Police. Campbell, who was originally hired as a campus police officer, was promoted to Deputy Chief of Police in December of 2015.
"I'm excited for my new role as Chief of Police. It is the goal of our department to provide a safe environment for the students, faculty, staff and visitors on all of our campuses," said Campbell. "It is important for our faculty, staff and students to know that our officers are approachable and willing to be of service to them at any time. We also hope to continue our close relationship with other local agencies in our service area."
Campbell is a retired Cobb County Police Department lieutenant who also has experience policing for the City of Marietta, Georgia State University and Kennesaw State University. His background includes serving as police academy assistant director, adjutant to the chief of police, robbery/homicide investigator and patrol supervisor. Campbell obtained a bachelor's degree from Albany State University and a master's degree from the Police Command College at Columbus State University. He is also a graduate of the FBI Academy.
The Chattahoochee Technical College Police Department includes 30 police officers, as well as three dispatchers. Officers are available at all eight of the college's campuses.