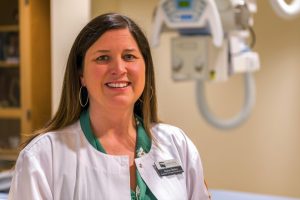 For the tenth consecutive year, 100 percent of the Chattahoochee Technical College graduates in the college's radiography program have passed the national certification test administered by the American Registry of Radiologic Technologists (ARRT), the world's largest organization offering credentials in medical imaging, interventional procedures, and radiation therapy.
"We are very proud of the fact that our radiography program produces such highly skilled graduates who then serve as important members of medical teams in our communities," said Chattahoochee Technical College President Dr. Ron Newcomb.
The radiography program at Chattahoochee Tech, which is accredited by the Joint Review Committee on Education in Radiologic Technology, prepares students to work in a variety of healthcare settings in which they prepare patients for and administer X-rays and other medical imaging procedures, noted Newcomb. Students can complete the radiography occupational courses at the college in four semesters, and they graduate with an associate of applied science degree in radiologic technology.
"The program's success would not be what it is without our Clinical Coordinator Malcolm Paschall and our adjunct faculty," said Chattahoochee Tech Radiography Program Director Jamie Bailey. "Our students are typically referred to as the best of the best. They are often hired by WellStar, since most of their clinical rotations are through the WellStar facilities. They also find jobs in other hospitals, outpatient clinics and orthopedics."
The starting salary for Chattahoochee Tech radiography program graduates is around $50,000 annually, according to Bailey. "That is a great return for a small initial investment of around $10,000 to complete the program," said Bailey. "My favorite thing about leading the radiography program at Chattahoochee Tech is being able to see the students become successful immediately after graduation. They start working in the field and even start growing within the profession as soon as they graduate and are hired."
The American Registry of Radiologic Technologists (ARRT) notes that radiologic technologists make up one-third of the nation's healthcare professionals – surpassed in number only by physicians and nurses. Founded in 1922, the mission of AART is to promote high standards of patient care by recognizing qualified individuals in medical imaging, interventional procedures, and radiation therapy.