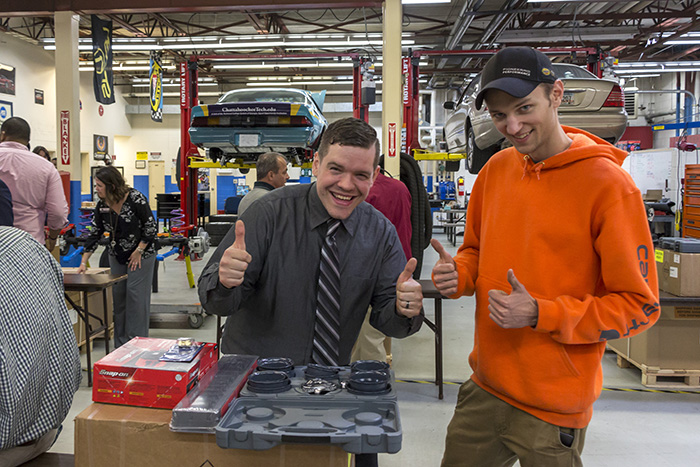 Generous support from our donors allows the Chattahoochee Tech Foundation to offer student scholarships each year to assist with tuition and fees. Scholarship recipients are selected after committee review and awards are distributed Fall semester. The Foundation promotes the following scholarships:
Chattahoochee Tech Foundation Scholarships (includes various scholarships established by our generous donors)
Each scholarship has eligibility requirements based on the donor's criteria. Some scholarships have additional criteria (ex: program of study, area of residence, etc.), therefore we request candidates to carefully review all eligibility requirements prior to applying.
Please check back in December 2018 for information about 2019 scholarship dates.
Here is the Scholarship Application.
Mike Peterson Memorial Scholarship
This award is presented one time per year. The application process starts in January. Candidates' applications are collected and sent to the Peterson's review committee. Recipients are selected around late February/early March.
External Scholarships (scholarships offered by external organizations)
The Foundation does not administer or select recipients. Applicants who are interested should contact the sponsoring organization for deadlines. Check back often because new opportunities are added to this list frequently.
Marietta Kiwanis Foundation Scholarships
Cobb EMC Community Foundation Scholarship ($5,000 to high school seniors)
Phoenix Patriot Foundation's Veteran Scholarship Program
Cobb EMC Community Foundation Vocational/Technical College Scholarship
The J.H. (Robby) Robinson Education Foundation, Inc. Scholarships
Jane and Ebbie Lance Scholarship
Fannin Regional Hospital Auxiliary Scholarship
Cobb County American Association of University Women Scholarship
LGE Community Credit Union Scholarships
American Association of University Women (AAUW) Scholarship for Women (Bartow County Residents)
The AT&T Scholars Program (for associate degree graduates of Aerospace, Agribusiness, Energy & Environment, Healthcare & Eldercare, Life Sciences, or Logistics & Transportation who are admitted to and committed to enroll in a University System of Georgia college or university.)
The TCSG Foundation Information Technology Scholarship (awarded to students enrolled in Computer Information Systems or Health Information Technology programs.)
The Manufacturers Education Foundation Scholarship (awarded to students enrolled in Automated Manufacturing Technology, Engineering Technology, Electronics Technology, Industrial Systems Technology, Industrial Maintenance, Electrical Maintenance, Mechatronics or other majors related to manufacturing)
Chattahoochee Technical College offers a wide range of financial aid options (HOPE Grant, HOPE Scholarship, Pell Grant, etc.). Visit the Financial Aid General Information web page for more details.
Questions:
Please contact the Foundation Office at 770-528-4461.