SwoopLink is our online job board. Full time jobs, part time jobs, and internships are posted daily by employers.
Current students login with your student email ID and your six (6)-digit birth date.
Alumni are always welcome to set up an account when job hunting.
Other Resources
Career Services Guide: The Game
Skilldrum
Skilldrum is a dynamic social recruitment solution that enables students to track resume status/submission in real time to notify them once an employer has viewed their resume. In addition, the social recruitment platform will also present additional job opportunities for passive jobseekers.
Click here for how to get started with Skilldrum.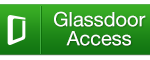 Glassdoor provides an inside look at salaries, reviews and interview questions posted by employees at over 100,000 organizations. Content includes actual interview questions and reviews for specific employers from previous interview candidates; specific salary, bonus, and commission details; and reviews of the company culture and working conditions.
Internet Job Search
Additional Helpful Information