Information about this exciting field:
The Associate of Applied Science (A.A.S.) degree in Early Childhood Care & Education is nationally accredited by the Early Childhood Associate Degree Accreditation Commission. For more information, go to www.naeyc.org/ecada/.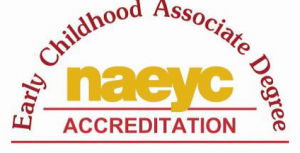 The most critical period of a child's life is the first five years. Early childhood teaching is a fast-paced, diverse career with classroom practices based on cutting-edge research about how children develop and learn. Graduates from the Early Childhood Care and Education program work collaboratively with young children and families in a variety of settings: public and private schools, child development centers, Pre-K programs, family child care homes, and as owners and administrators of their own child development programs. Whether you're interested in owning or directing your own program, working as an infant/toddler specialist, specializing in children with special needs, or becoming a paraprofessional working with young children from birth through eight years of age, Chattahoochee Tech has a program that is just right for you.
Is this program for me?
Click HERE to view the Early Childhood Care and Education Conceptual Framework.
Potential Funding/Scholarships for ECCE students: CLICK HERE
You may choose to pursue a certificate, diploma, or degree program in Early Childhood Care and Development here at Chattahoochee Tech.  Students who pursue Early Childhood Care and Education work well with children and seek to learn more about how children grow and develop.  Whether you want to work in a child care center or Pre-K program—or pursue teacher certification through a four-year college or university after completing an Associate Degree at CTC—the Early Childhood Care and Education program will help students fulfill their potential as educators of young children.  Here are some qualities and skills that the successful Early Childhood Care and Education graduate will have:
Knowledgeable about child development and learning
Able to:

observe, assess, document, and build meaningful curriculum
build family and community relationship
use developmentally effective approaches
use content knowledge to build meaningful curriculum

Effective communication techniques
Professional, ethical, advocate for young children
Coursework includes:
Child Growth and Development
Health Safety and Nutrition
Curriculum and Assessment
Creative Activities for Children
Social Issues and Families
Program-specific information
Bright from the Start – Georgia's child care licensing agency – requires a Child Development Associate (CDA) certification or Technical Certificate of Credit (TCC) for all individuals working with young children in licensed programs. The Early Childhood Care and Education Basics TCC offered by Chattahoochee Tech meets this requirement.  View the flyer for more information.
Where might I find a job?
Child Care centers, Georgia Pre-K programs, Head Start programs, after-school programs, and pre-schools are a few of the places our graduates successfully seek employment. Some of our graduates become Child Care program administrators.
Salary Information
Campus Locations
Early Childhood Care and Education courses are offered on multiple campuses and online.
Faculty
Maria Abercrombie
Tamika Brundidge
Frances Carlson
Hollie Queen
Gainful Employment Report
Early Childhood Care and Education Diploma Gainful Employment Report
Degree
Associate of Applied Science in Early Childhood Care and Education
Diploma
Early Childhood Care and Education Diploma 
Certificate
Early Childhood Care And Education Basics Certificate
Gainful Employment Report
Early Childhood Care and Education Certificate Gainful Employment Report