CTC OneCard
The CTC OneCard is your official Chattahoochee Technical College Refund Disbursement Card. You are expected to activate the CTC OneCard to choose how you wish to receive refund disbursements from Chattahoochee Technical College. There are multiple options provided to you for choosing how to receive your refunds. You may choose to receive your funds electronically by direct deposit into your Higher One account, in which you will use the CTC One card for purchases, or you can choose to have your funds transferred to another lending institution or receive a paper check.
Students with a credit on their account after all tuition, fees and books have been paid will receive a refund of their credit balance by the end of the fifth week of the semester. Should a Pell student withdraw from all classes before the 60% time frame entitlement period, he or she will be required to pay back funds they have not earned. All refunds are issued from the Bursar's Office. All refunds are processed through the CTC One Card process and are not available for pickup.
Need to replace your lost CTC OneCard? Complete the CTC OneCard Replacement Request Form.

More information about HigherOne's services and policies can be found at http://www.ctconecard.com.
Watch for this type of envelope. It will contain your CTC OneCard.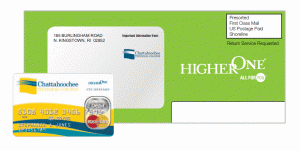 Students should be aware that HigherOne charges minimal fees for some types of transactions. The fee schedule can be found at https://ctconecard.higheroneaccount.com/studentaccount/feeschedules.do.