(Acworth, Ga. – May 8, 2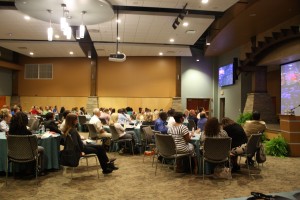 015) More than 130 community and business leaders from around the area gathered at Chattahoochee Technical College's North Metro Campus Friday for Leadercast 2015. Individuals wanting to experience the worldwide phenomenon and groups from Lockheed Martin, Shaw, Coca Cola, Goodwill of North Georgia, Yamaha, Fastenal and North Georgia Staffing converged on the campus for the day long even with the Chattahoochee Technical College Division of Economic Development.
The Leadercast event, a brand that builds "Leaders Worth Following," was broadcast live from Atlanta to hundreds of sites around the world, including Chattahoochee Technical College. The 2015 simulcast featured the following speakers:
Andy Stanley, leadership author and communicator;
Malala Yousafzai, Nobel Laureate and founder of The Malala Fund;
Ed Catmull, president of Pixar & Disney Animation Studios;
Seth Godin, innovative thinker and best-selling author;
Rudy Giuliani, 107th mayor of New York City from 1993-2001;
Aja Brown, mayor of the city of Compton, California;
Bill McDermott, CEO of SAP AG;
Commander Rorke Denver, Navy SEAL Commander and author; and
Bill and Giuliana Rancic, award-winning personalities and co-hosts of Leadercast.
Leadercast exists to change positively the way the world thinks about leadership. This year's theme – The Brave Ones – explored what it means to lead in a way that creates bold cultures, builds faithful employees and produces high achievement. The event took place from 9 a.m. to 4 p.m. at the Chattahoochee Technical College North Metro Campus in Acworth. Registration cost of $75 for participants and included attendee journals, discussion guides and lunch with North Georgia Staffing as the lunch sponsor.