(Acworth, Ga. – Feb. 5, 2016)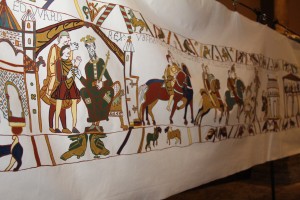 Chattahoochee Technical College's North Metro Campus will host a replica of the 230-foot Bayeux Tapestry from Feb. 8 to Feb. 12 inside the campus' D Building.
"I'm very excited this came together. Usually Georgians interested in seeing this world-famous tapestry have to travel all the way to France," CTC Instructor of Humanities Thomas LaPoarte said. "The tapestry is a top tier artifact filled with historical and political intricacies."
Commissioned by Bishop Odo of Bayeux, the half-brother of Norman King William the Conqueror, the linear-designed tapestry displays the historical events leading up to, and the victory of, William's Norman invasion of England in 1066, culminating with the Battle of Hastings where William claimed the English throne for the Normans, resulting in Harold II's death.
In 2014, the University of North Georgia acquired the only hand-painted replica in existence of the tapestry, which was manufactured between 1067 and 1097. Commissioned by Dr. E.D. Wheeler, a retired judge and former dean at Oglethorpe University, the replica is on loan to the university for display and the appreciation for its artistic and historical value. Artist Margaret ReVille painted the replica in acrylic on linen.
"I learned the replica is owned by University of North Georgia and it was advised they would like to see the tapestry travel to college campuses. The following Monday, we started the process to bring this phenomenal work of art and history to Chattahoochee Tech," LaPorte said.
The original artwork uses eight colored wools in plain linen and features 626 people, 202 horses, 55 dogs, 505 various animals, 37 fortresses and/or buildings and 41 ships, as well as countless numbers of weapons, clothing and various instruments. Originally, the artwork was embroidered on six separate pieces then connected together.
"I strongly encourage folks to take the opportunity to experience the glory of the Bayeux Tapestry," LaPorte said. "Stop by Chattahoochee Tech to step back in time and be a part of a unique piece of history."
The North Metro Campus is located at 5198 Ross Road in Acworth. The piece will be on display from Monday, Feb. 8 to Feb. 11 from 8 a.m. to 7 p.m.; the piece also will be on display Feb. 12 from 8 a.m. to 10 a.m.