(Marietta, Ga. – Nov. 22, 2016)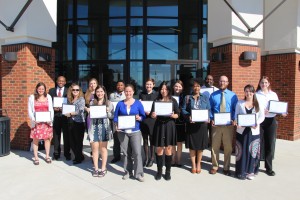 Twenty-five Chattahoochee Technical College students were inducted into the National Technical Honor Society on Friday, Nov. 18, during a ceremony held at the North Metro Campus in Acworth.
The National Technical Honor Society brings well-deserved recognition and career opportunities to students who excel in one of 108 career and technical fields.
Chattahoochee Technical College students inducted include:
• Paola Berrios, of Marietta
• Hilarion Bongmoyong Jr., of Smyrna
• Toni Cameron, of Marietta
• Alyssa Castillo, of Powder Springs
• Lacey Catherwood, of Canton
• James Charlow, of Acworth
• Tracy DiCarlo, of Woodstock
• Erika Fasselt, of Acworth
• Nitasha Ginn, of Woodstock
• Madison Gowder, of Marietta
• Kenneth Grimes, of Ellenwood
• Lingyun Horn, of Acworth
• Francis Murigu, of Dallas
• Vanessa Myers, of Atlanta
• Rebecca Quinlan, of Alpharetta
• Tyler Rapp, of Ranger
• Angela Ross, of Douglasville
• Sara Shelton, of Cartersville
• Tyler Sisson, of Cumming
• Tyrus Skipper, of Marietta
• Ashley Smith, of Dallas
• Cara Teague, of Kennesaw
• Alexander Villa, of Dallas
• Constance Vogel-Brown, of Woodstock
• Genevieve Wright, of Marietta.