(Marietta, Ga. – June 7, 2016)
"In the life of a college, commencement is our most significant event. It is a celebration of what our candidates for graduation have accomplished and a celebration of the skills and knowledge required for the credentials that they have earned. Graduation is also a celebration of the jobs that they will get or perhaps have already gotten," CTC President Dr. Ron Newcomb said.
The most popular area of study for graduates was Health Sciences. This was followed by programs in the area of business, including Accounting, Business Administrative Technology, Business Management, Marketing Management and programs in the field of automotive, including Automotive and Diesel Technology.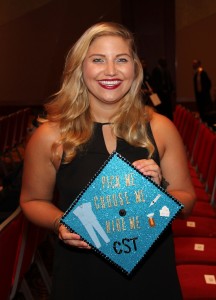 More than 50 students completed an Associate of Applied Science or diploma program with a 4.0 cumulative grade point average and those in attendance wore gold honor cords to signify their accomplishment.
Cedeno Carter, who served in the United States Army for eight years, was one of 31 military veterans who graduated from Chattahoochee Tech. Veterans proudly wore red, white and blue honor cords during the ceremony.
The Cobb County resident said he wanted to attend CTC in order to enhance his knowledge of computer information systems. After receiving his Associate of Applied Science in Computer Programming and Networking Specialist, Carter now plans to continue his educational journey at Kennesaw State University.
"Chattahoochee Technical College has illuminated my resume and made me more marketable in my field of Information Technology," he said. "I have already had several opportunities present, but I haven't necessarily found the ideal opportunity that I am in search of, it's all about timing. CTC was the perfect fit for me because it was economically affordable, offered great flexibility with the varying class schedules and the overall great things that I heard from graduates and people in general about the quality of education at Chattahoochee Technical College."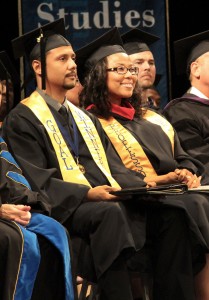 Darlene Strickland of Pickens County said she wanted to attend Chattahoochee Technical College in order to earn a degree in Marketing Management.
"I decided to work for a degree because there are so many more job opportunities that require a degree. Chattahoochee Tech fit into my lifestyle and schedule," she said. "The instructors are all very professional and helpful. They go above and beyond to help students succeed."
Bartow County resident Elizabeth Brown graduated Monday night with an Associate of Applied Science in Business Management.
"Through Chattahoochee Technical College, I was able to complete my Cosmetology diploma first, which then allowed me to find a job and generate enough income to pursue a degree in Business Management," Brown said.
With dreams of opening her own salon one day, Brown called Chattahoochee Technical College a "great stepping stone" as she looks to pursue the next chapter in her life.
Natasha Hightower, a Paulding County resident, earned her Associate of Applied Science in Accounting.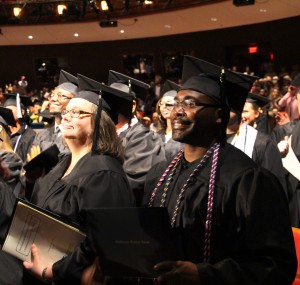 "I have always wanted to get a better job to help my family, and Chattahoochee Technical College has helped me obtain the tools I need to make my dreams a reality," she said.
Gilmer County resident Connie Rau lauded the college's instructors for assisting her in achieving certification in Medical Billing and Coding, while Cherokee County resident Tiffany Bailey praised the counselors who led her down the proper career path.
"When I first came to Chattahoochee Tech, I didn't know what I wanted to do. The counselors were very helpful and showed that they really cared about the students. They know your name and care about your success," Bailey, who earned an Associate of Applied Science in Health Information Management Technology, said.
During the ceremony, Chattahoochee Technical College's Georgia Occupational Award of Leadership winner Jourdan Ortiz and Rick Perkins Instructor of the Year winner Celnisha Dangerfield, who were named regional finalists in the Technical College System of Georgia's 2016 Student and Instructor of the Year awards, provided the commencement address. Each encouraged the candidates for graduation to be the very best version of themselves.