(Pickens County, Ga. – Aug. 24, 2016)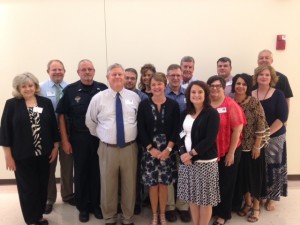 Chattahoochee Technical College Police Officer Tim Hilley, pictured third from left, provided Civilian Response to Active Shooter Events training to the Pickens County Board of Education on Wednesday, Aug. 24. Superintendent Dr. Lula Mae Perry had requested the training for central office staff and principals.
"The college is proud to provide training to educate the leaders of our schools with the knowledge to provide safety should an emergency situation arise," said Chattahoochee Technical College's Vice President of Facilities David Simmons.
The Chattahoochee Technical College Police Department will offer CRASE training at no cost to the Cherokee County community on Friday, Aug. 26. The training will be held on the college's Woodstock Campus and participants can attend either a seminar that will run from 10 a.m. to noon or a second seminar from 3 p.m. to 5 p.m. There is no sign-up required to participate in this program.
The training sessions are designed and built on the Avoid, Deny, Defend strategy developed by ALERRT in 2004. Topics include the history and prevalence of active shooter events, the role of professional guardians, civilian response options, medical issues and drills.