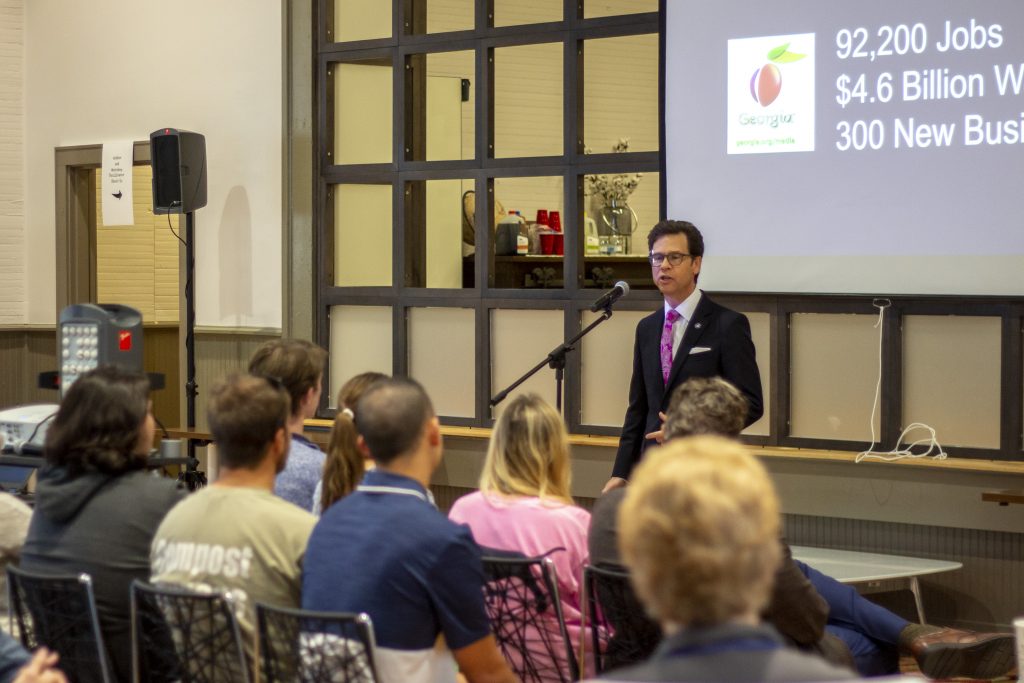 The second annual "CTC Writes! A Literary Festival" hosted by Chattahoochee Technical College at the Woodstock Campus on Thursday, Oct. 18, featured Georgia Film Academy Executive Director Jeffrey Stepakoff as the event's keynote speaker along with an assortment of creative workshops, a local authors' book fair, art displays and live music for hundreds of students and community participants.
"We designed the day to be a break from usual classes to give both students and instructors a chance to try out new and creative methods of learning and teaching," said event co-organizer and Chattahoochee Tech English Instructor Robin Thomas. "Being able to communicate effectively through writing, which is always directly influenced by reading, is the key to success in any field."
Workshop topics included fiction writing, dialogue, character development and poetry, along with workshops that focused on resume writing and publishing. Featured authors included Clifford Brooks, Marsha Cornelius, Susan Crawford, Roger Johns, Liz Lazarus, Aaron Levy, Jason Sheffield, James Tuck and Julian Winters. As an additional highlight of this year's event, Chattahoochee Tech celebrated the power of reading for local elementary students who were invited to attend a session in connection with the Jumpstart "Read for the Record" initiative.
"Ultimately, we want people to know that stories are important," said event co-organizer and English Instructor Jennifer Staton. "We want students to learn how to tell stories and how to appreciate other people's stories. Being introduced to this kind of networking event at such a young age should prepare our students for the many opportunities they will have like this one for years and years to come."