Welding students at Chattahoochee Technical College recently gained significant, real-world career experience thanks to an invitation by Yanmar, one of the world's largest producers of diesel engines, to create a machine stand capable of holding a 5,000-pound engine.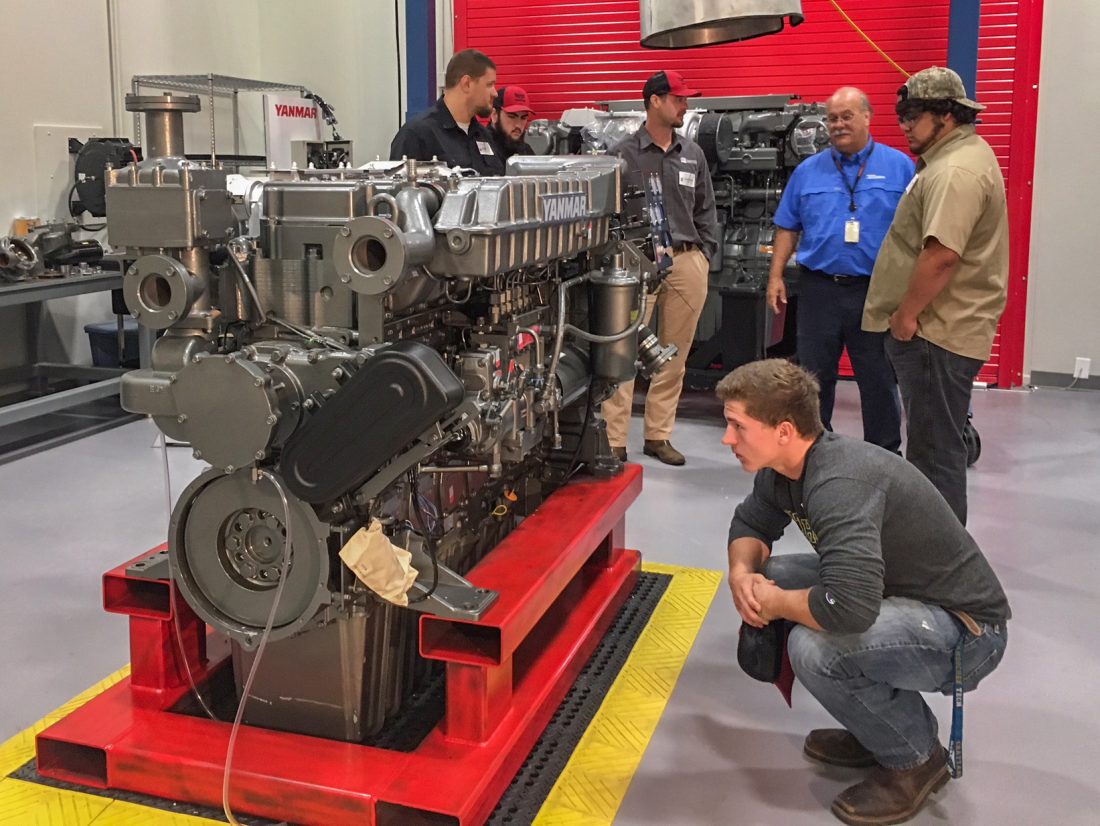 "After coordinating with Chattahoochee Tech, Yanmar ordered the steel for this project and had it delivered to the college's welding lab at the Appalachian Campus in Jasper," said Lead Instructor Jordan Hunter. Welding students Devin Atchley, Humberto Quivoz-Martinez, Spencer Mann and Max Zullo all volunteered to work on this project under Hunter's supervision.
The machine stand created by this skilled group of Chattahoochee Tech welding students is now in use at the company's Yanmar Academy, a state-of-the-art training center housed in the 50,000-square-foot Yanmar Evo Center, which is located at the corner of Highway 92 and Old Alabama Road in Acworth.  Yanmar hosted a site visit on Thursday, Sept. 27, for the Chattahoochee Tech welding students and their instructor to see the machine stand in use. During that visit, Yanmar Service Training Instructor Eric Schaffer noted that the machine stand was holding a 5,000-pound diesel boat engine valued at $82,000.
"We are very appreciative of this opportunity for our welding students," said Hunter, "and we look forward to working on more projects in partnership with Yanmar."
The newly renovated welding labs at the college's Appalachian Campus in Jasper recently received $400,000 in improvements.
"Our world-class welding program is one of the premiere programs at the Appalachian Campus," said Dr. Ron Newcomb, President of Chattahoochee Technical College. "This program provides the best workforce training possible. Our students are able to step right into rewarding and well-paying careers in a high-demand field." Dr. Newcomb also noted that students in the Chattahoochee Tech welding program who qualify for the HOPE Career Grant receive free tuition.