The Chattahoochee Tech Foundation honored the recipients of 98 different scholarships at its annual scholarship reception held Friday, March 30, on the North Metro Campus in Acworth. Representing a wide variety of programs offered at Chattahoochee Technical College, the 98 students were awarded scholarships amounting to $103,000 – a 23 percent increase over last year's awarded amount.
The scholarship award recipients competed against more than 1,000 applicants from Chattahoochee Technical College for scholarship awards ranging from $500 to $2,500. After being scored by the college's Board of Trustees, the top applicants were matched with the appropriate scholarship. In addition to meeting the specific criteria for certain scholarships, applicants must meet specific GPA requirements, demonstrate financial need and be enrolled for a required number of credit hours.
"The mission of the Chattahoochee Tech Foundation is to provide financial support to the college, its students, and programs," Foundation Chair Don Barbour said. "We are able to accomplish our mission with the help of donors who generously give to the Foundation to make education an affordable reality for our students."
Charitable support of the Chattahoochee Tech Foundation from alumni, friends, foundations and corporations in the community during the 2017 fiscal year allowed the Foundation to provide over $80,000 in student scholarships and over $10,000 in emergency grant funds to students at risk of not continuing their education due to unforeseen financial dilemmas. The Foundation also awarded $20,000 in faculty and staff grants for professional development.
"Our mission at Chattahoochee Tech is to strengthen both individuals and businesses through workforce training," said Dr. Ron Newcomb, President of Chattahoochee Technical College. "We are very grateful to the Chattahoochee Tech Foundation donors and to our community partners for their generosity in helping our students fund the educational training they need to launch successful careers and build productive lives. We also are very proud of the fact that Chattahoochee Tech produces graduates who are meeting the increasing demand from today's employers for highly skilled workers to fill well-paid jobs available in our community."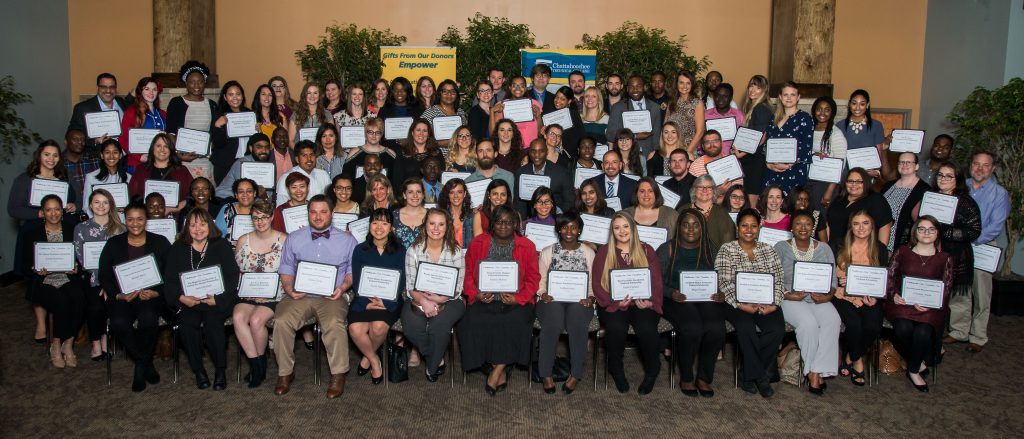 The 2018-19 Chattahoochee Tech Foundation scholarship recipients were:
Andrews Business Services Scholarship in Memory of Chris Andrews
Ashley Clark, of Atlanta, Physical Therapist Assistant
Angel on My Shoulder Scholarship
Brandy Baker, of Douglasville, Associate of Science in Nursing
AT&T Scholarship
Breanna Jones, of Canton, Business Management
Laura Limas Chavez, of Mableton, Associate of Science in Nursing
Haley Moraski, of Marietta, Physical Therapist Assistant
Ball Ground Lions Club Scholarship
Joshua Turner, of Ball Ground, Radiography
Billy Askea Endowed Scholarship
Lucia Santisteban Navarro, of Acworth, Electrical and Computer Engineering Technology
Brooke Melton Memorial Scholarship
Januaries Kyalo, of Acworth, Practical Nursing
Meagan Maughon, of Acworth, Practical Nursing
CareSource F.O.C.U.S. Scholarship
Winavier Castillo, of Smyrna, Interdisciplinary Studies Health Track
Thelma Nora, of Kennesaw, Computer Programming
Charm & Goodloe Yancey Foundation Diesel Tech Scholarship
Bernard Kingori, of Marietta, Diesel Equipment Technology
Cherokee Master Gardeners Horticulture Scholarship
Veronica Padgett, of Acworth, Horticulture
Cleo Ingram Scholarship of Nursing
Ifeyinwa Okonkwo, of Dallas, Associate of Science in Nursing
Coplon Family Memorial Scholarship
Blythenia Weatherspoon, of Smyrna, Business Technology
Craig & Glinda Douglass Endowed Scholarship
Jaquan Adams, of Atlanta, Business Management
Sunday Anderson, of Dallas, Associate of Science in Nursing
Samantha Gehrlich, of Marietta, Health Care Science
Jessica Jones, of Temple, Health Care Management
Kalia Knapp, of Marietta, Interiors
Jemetria Mabrey, of Smyrna, Design and Media Production Technology
Julie Mullenix, of Dallas, Interiors
Crystal Preston, of Milner, Associate of Science in Nursing – LPN to RN Bridge Option
Robert Ryan, of Canton, Technical Specialist
Lillie Schultz, of Acworth, Design and Media Production Technology
Culinary Arts Scholarship
Melanie Till, of Marietta, Culinary Arts
David E. Loos, II Memorial Nursing Scholarship
Heather White, of Acworth, Associate of Science in Nursing
Debbie Daly Memorial Scholarship
Sylvia Kirechu, of Dallas, Cybersecurity
Dr. Anil Yadav, MD Scholarship
John Adams, of Jasper, Industrial Maintenance and Electrical Technology
Amy Jordan, of Marble Hill, Early Childhood Care and Education
Madison Lancaster, of Talking Rock, Physical Therapist Assistant
Sabrina Lovingood, of Fairmount, Criminal Justice Technology
William Moss, of Talking Rock, Business Management
Ed Voyles Automotive Group Scholarship
Matthew Hutcheson, of Ball Ground, Automotive Technology
Jose Segura, of Marietta, Automotive Technology
Joshua Watts, of Chatsworth, Automotive Technology
Nicole Wilkins, of Cartersville, Automotive Technology
Georgia Power Endowed Scholarship
Stacy Carter-Khaalid, of Douglasville, Associate of Science in Nursing – LPN to RN Bridge Option
Harlon D. Crimm Endowed Scholarship
Michael Osei Gyasi, of Kennesaw, Industrial Maintenance and Electrical Technology
Helen E. Roper Foundation Endowed Scholarship
Jennifer Kennedy, of Grayson, Occupational Therapy Assistant
Jack Vaughan, Jr. Endowed Scholarship
Sidney Danbury, of Atlanta, Radiography
Shamim Keshwani, of Alpharetta, Health Care Management
Jonquil Garden Club Scholarship
Anna Young, of Acworth, Horticulture
Lockheed Martin Aeronautics Endowed Scholarship
Leon Harris, of Smyrna, Cybersecurity
Maria Jaime, of Marietta, Early Childhood Care and Education
LaMario Kelly, of Douglasville, Television Production Technology
Amy Kotula, of Woodstock, Occupational Therapy Assistant
Kaitlyn Middendorf, of Laceys Spring, Computer Programming
Abigail Tsigbey, of Austell, Interdisciplinary Studies Health Track
Mark Whitfield Scholarship of Excellence
Cayla Williams, of Canton, Associate of Science in Nursing
Milton Ratner Foundation Endowed Scholarship
Julie Allsen, of Kennesaw, Interdisciplinary Studies
Seth Cooper, of Smyrna, Health Care Assistant
Carolina Mazurowski, of Lithia Springs, Business Management
Quynh Nguyen, of Acworth, Marketing Management
Ngoc Thao Pham, of Marietta, Accounting
Mosley Endowed Automotive Scholarship
Nicholas Lewis, of Marietta, Automotive Technology
N.C. Low Memorial Endowed Scholarship
Lacie White, of Jasper, Interdisciplinary Studies Business Track
North Georgia Staffing Scholarship
Rebecca Merkel, of Canton, Computer Programming
Paul Battles Scholarship
Robin Everritt, of Woodstock, Health Care Science
Phyllis Abbey Lantz Nursing Scholarship
Michele Malcolm, of Kennesaw, Associate of Science in Nursing
Phyllis Foster Pool Scholarship
Elaina Latty, of Jasper, Business Technology
Pickens County Scholarship
Marianne Shepherd, of Jasper, Accounting
QSR, Inc. Industrial Maintenance and Electrical Technology Scholarship
John Reynolds, of Canton, Industrial Maintenance and Electrical Technology
Robert and Cheryl Moultrie Endowed Scholarship
Shadree Bachan, of Powder Springs, Interdisciplinary Studies Health Track
John Davis, of Marietta, Industrial Maintenance and Electrical Technology
Ami Eho, of Dallas, Interdisciplinary Studies Health Track
Mark Schuler, of Kennesaw, Cybersecurity
Sara Stansell, of Powder Springs, Clinical Laboratory Technology
Ron Greene Memorial Academic Leadership Scholarship
Daniel Lee, of Marietta, Culinary Arts
Rotary Club of Jasper Scholarship
Tonya Hammontree, of Jasper, Medical Assisting
Rotary Club of Paulding Scholarship
Camille Blevins, of Dallas, Associate of Science in Nursing- LPN to RN Bridge Option
Breanna Cooper, of Dallas, Associate of Science in Nursing
Rafael Garate, of Dallas, Business Management
Charisa Mackey, of Dallas, Associate of Science in Nursing
Stephen J. Gilbert Memorial Scholarship
Aondongu Tivzenda, of Marietta, Electrical and Computer Engineering Technology
Suggs Endowed Scholarship
Vaughn Ingram, of Cartersville, Industrial Maintenance and Electrical Technology
Tara Drummond Memorial Scholarship
Omar Newell, of Powder Springs, Criminal Justice Technology
Courtney Smith, of Douglasville, Criminal Justice Technology
Tara Fowler "Journey" Scholarship
Maria Ugi, of Powder Springs, Interiors
The Beacon Foundation Scholarship
Syeda Ashfaq, of Marietta, Early Childhood Care and Education
Amber Bach, of Kennesaw, Interiors
Heather Butler, of Powder Springs, Radiography
Brely Couch, of Marietta, Health Care Science
Duron Elam, of Austell, Industrial Maintenance and Electrical Technology
LaSheta Jones, of Kennesaw, Associate of Science in Nursing
Chaquita Laws, of Marietta, Marketing Management
Felisha Moore, of Marietta, Early Childhood Care and Education
Rachel Robinson, of Powder Springs, Business Technology
Michael Thuku, of Marietta, Associate of Science in Nursing
The Magnolia Garden Club of Cartersville, Georgia Scholarship
Jerilyn Holland, of Acworth, Horticulture
Tim B. Clower/GreyStone Power Scholarship
Jeason Jaddoo, of Douglasville, Industrial Maintenance and Electrical Technology
Tommy Hembree Endowed Scholarship
Jason Maillet, of Woodstock, Air Conditioning Technology
Justin Zeller, of Acworth, Air Conditioning Technology
Tull Charitable Foundation Endowed Scholarship
Alexis Binninger, of Marietta, Interdisciplinary Studies Business Track
Taylor Carlucci, of Canton, Business Management
Charlotte Eaton, of Canton, Interdisciplinary Studies Business Track
Ruth Nkongho, of Smyrna, Interdisciplinary Studies Health Track
Wanda Danette Stokes Spann Scholarship
Alexandria Sanders, of Cartersville, Criminal Justice Technology