(Woodstock, Ga. – Oct. 24, 2017)
Chattahoochee Technical College celebrated literature and the arts with more than 600 student and community participants on Oct. 19 at the inaugural CTC Writes! A Literary Festival held at the Chattahoochee Tech campus in Woodstock.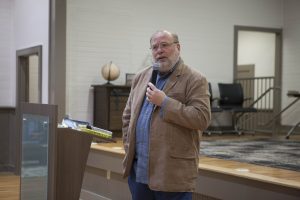 Hosted by Chattahoochee Tech's student literary club, Aquila, the day-long literary festival featured an assortment of creative workshops, a local authors' book fair, literary readings and featured speakers along with live music and performances provided by local musicians. Workshop topics ranged from fiction and poetry writing to resume and test preparation.
"I've never seen such a diverse group of people from our organization and from our community come together in such an upbeat environment," said event co-organizer and English instructor Jennifer Staton. "So far, we've gotten an extraordinary amount of positive feedback, including the resounding statement, I can't wait until next year!"
Adding to the excitement of this year's event was award-winning author Raymond Atkins of Rome who served as the keynote speaker. Atkins, who teaches English at Georgia Northwestern Technical College and creative writing at Reinhardt University, recently received the Georgia Writers Association Lifetime Achievement Award.
Event organizers are already looking forward to next year's literary festival. "Since this was our inaugural event, we had no idea what to expect, said English instructor and event co-organizer Robin Thomas. "However, we were overwhelmed by the positive response we've received and are looking forward to improving and expanding the festival for next year."