(Jasper, Ga. – Aug. 10, 2017)
As the need for trained medical assistants grows, Chattahoochee Technical College's Medical Assisting program at the Appalachian Campus has seen enrollment double in within the past year.
"What makes this program so unique is that students are trained as multi-skilled healthcare professionals," program director and instructor Sonja Caspari said. "The students are trained in both administrative and clinical tasks that can be performed in physician's offices, hospitals and other types of healthcare facilities, so they are able to take their skills with them no matter what type of healthcare facility they decide to work in."
She continued, "Additionally, the Medical Assisting program at Chattahoochee Technical College includes a 240-hour externship where students get a real-world, hands-on experience, which prepares them to enter into the medical field after graduation."
According to the Bureau of Labor Statistics, medical assisting is one of the nation's fastest growing health careers throughout 2024. The Medical Assisting program at CTC is accredited by the Commission on Accreditation of Allied Health Education Programs (CAAHEP) upon the recommendation of the Medical Assisting Education Review Board (MAERB). This allows graduates of the program to become eligible to take the National Certification (CMA) with the American Association of Medical Assistants.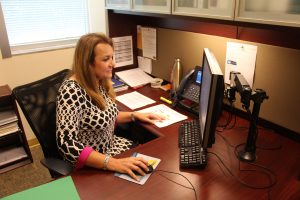 Graduates of the program, which includes both a diploma and degree option, may be completed in one to two years, respectively
Graduates of the program located on the Appalachian Campus may find employment at Piedmont hospital in Pickens County, as well as various specialty practices, such as primary care, pediatrics and internal medicine.
The program is offered at both the Appalachian and Marietta Campuses of Chattahoochee Technical College.