(Acworth, Ga. – July 24, 2017)
Students in Chattahoochee Technical College's Drafting Technology program, located on the North Metro Campus, will have the opportunity to work with emerging technology this fall semester thanks to the purchase of a Stratasys F270 3D printer. The printer was acquired through Perkins funding from Technical Training Aids of Georgia.
"As far as how 3D printing is shaping the industry, first is rapid prototyping," instructor Jack Reece said. "A company can print a test sample of a part or a mechanism to test its functionality in a matter of hours as opposed to machining the same part which would take longer and cost more."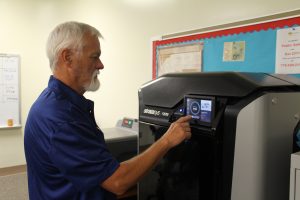 He continued, "Another aspect is the ability to print custom or replacement parts quickly. Most 3D printers print a plastic material. Some will print in metal and can be used for medical implants."
Reece said graduates of the program may work at a variety of locations, including civil engineering, architecture, construction and manufacturing design firms.
"This form of printing can be used in any of the fields but is most prevalent in manufacturing where rapid prototypes can be generated," Reece said.
Students may enroll in either the Drafting Technology diploma or degree program. In addition, five technical certificates of credit are available. The degree may be completed in as little as two years and the diploma may be completed in less than two years.